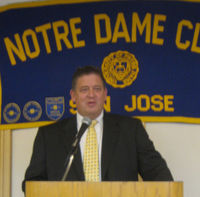 The medical malpractice trial involving Notre Dame head football coach Charlie Weis is now starting again. When we last left the Weis story on February 16th, a mistrial had been declared when a juror fell ill while Weis was on the witness stand, and the two defendant physicians rushed over to assist.
Defendants' counsel vainly tried at that time to claim the trial should continue and that the jury had not been unfairly prejudiced by the conduct of the physicians, though I don't know how they kept a straight face while making that argument.
The story behind the lawsuit is that Weis decided to have gastric bypass surgery in June 2002. He claims that the defendants acted negligently by failing to recognize life-threatening internal bleeding and infection two days after the surgery.
According to this AP story:
In opening statements to the jury, Weis's lawyer, Michael Mone, said the doctors acted negligently by allowing Weis to bleed internally for 30 hours after the surgery before performing a second operation to correct the complication. Weis was in a coma for two weeks and nearly died.

But William Dailey Jr., a lawyer for Ferguson and Hodin, said internal bleeding was a well-known complication of gastric bypass surgery. Dailey said Ferguson, Hodin and several other doctors who cared for Weis believed the bleeding would stop on its own, as it does in most cases following such surgery.
Claiming a particular bad result is a "complication" of surgery, by the way, is a common defense tactic. The proper response from the plaintiff's side is asking whether this is an avoidable complication, if proper care is exercised.
This trial, by the way, is being live-blogged by a college football blog, The Wizard of Odds (Hat tip, TortsProf).
OK, now here is the weird part: The live-blogging of the trial will come out of Suffolk Superior Court in Massachusetts. Why is that weird? Because that is the same court that Flea was live-blogging his own medical malpractice case from earlier this year.
Addendum:
7/17 — See Battle Lines Are Drawn in Day 1 (Wizard of Odds, after first day of trial).
7/18 — The Return of Weis' Hired Hand (plaintiff's expert testifies it was malpractice to give Weis the blood thinner Heparin post-operatively while he was hemorrhaging) (Wizard of Odds)
7/19 — The Big Guy Takes The Stand (Wizard of Odds)
7/19 — Weis Takes Stand in Lawsuit (AP via Forbes)
7/20 — Team Weis Scores A Major Victory (Wizard of Odds)
7/20 — Doctor: Weis went against my medical advice (Boston Herald via Kevin, M.D.)
7/24 — Hodin Takes Stand, Defends Decisions (Wizard of Odds)
7/24 — Doctors not backing down against Weis in malpractice suit (ESPN)
(Eric Turkewitz is a personal injury attorney in New York)