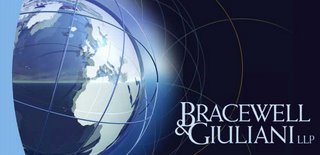 A week ago I headlined that Rudy Giuliani had screwed up by not following changes to New York's new attorney rules on advertising. In addition to leading in the polls for a presidential nomination, Giuliani is also a practicing New York attorney. Since these are Disciplinary Rules, they're important.
I checked yesterday and Bracewell & Giuliani has now complied, as have some of the others on the two lists I provided. Former Mayor Ed Koch's firm Bryan Cave, among a gazillion others with New York offices both prominent and not, is still in default. And whether New York attorneys comply with the more substantive rules than the one I picked on is anyone's guess.
While I've written about many of the problems and challenges the new rules will have, the biggest one (for any rule that survives legal challenge) is likely to be enforcement. The resources since don't exist to chase everyone down, which means that any enforcement is going to be selective, and therefore it will likely be discriminatory in some fashion.
If the old rules were thinly enforced regarding advertising and solicitation (particularly with respect to the abhorrent practice of "chasing" in personal injury matters), simply creating new ones is not likely to cure the problems that do exist.
Other links to the subject: