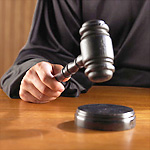 A great piece yesterday at Judicial Reports regarding the ongoing trial of former boss Clarence Norman, Jr. and the testimony of judges:
Half-Baked Fix

By Jason

Boog

Posted 02-09-07

The latest trial of Clarence Norman, Jr., has revealed all the nasty machinations of the ex-party boss's judge-picking apparatus. Judges have taken the stand to hammer the very system that created their careers. That means they have also offered a warning to judicial selection reformers whose proposals fail to address nomination systems in the lower courts — from which judges for the upper tier are often plucked.

Last week, former Civil Court Judge Karen B. Yellen nearly broke down on the witness stand, recalling how Democratic Party leadership undermined her re-election bid in 2002.

Dressed in a bright red blouse with her black hair trimmed short, Yellen described the financial train wreck that effectively ended her contested campaign. Brooklyn's Democratic Party leadership had demanded $9,000 more from her depleted coffers, she said, threatening to withdraw its support for her if she failed to come up with the dollars.

"There wasn't enough money left in my campaign finances for it. This was a fight for my career," she said.

Over the last two weeks, the prosecution in the final trial of former Democratic Party leader Clarence Norman, Jr., called four judges to the stand, giving court watchers a fly-on-the-wall perspective into the petty disputes, bankrupt campaigns, and childish struggles that marked the end of Norman's reign.

All four judges blamed party leadership, criticizing the very system that created their careers.
Much more of the article at this link.
Prior posts from my own site: