As former Brooklyn Democratic leader and Assemblyman Clarence Norman, Jr. goes on trial next week for the fourth time, New York's judiciary steels itself for a spate of bad press. Why is he going on trial? From today's New York Sun: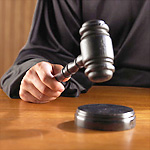 The trial will focus on Norman's alleged demand that two judicial candidates spend their campaign funds at consulting and printing businesses that he approved. These demands were allegedly made over a table at the Park Plaza Restaurant, a well-known diner near the courthouses in Brooklyn.

The issues this trial presents are likely to appeal to an audience wider than the usual courthouse crowd. The trial is of particular interest this year, as lawmakers in Albany are set to choose a system for selecting state trial judges.

With the state Senate expected to throw its support behind a bill requiring all state judges to go through an open primary, the upcoming trial could be used as an argument for proponents of an appointment system. It is expected to demonstrate how judicial candidates, like all political candidates, often come to depend a great deal on party organizations and donors when campaigning to win a primary.
…

The investigation by Brooklyn's district attorney, Charles Hynes, dates back to at least 2002 and began following the arrest of judge on bribery charges. While Mr. Hynes has charged several other judges with crimes, he has yet to prove that judgeships are bought and sold in Brooklyn — the original goal he set for himself. Norman, who had the reputation as a kingmaker of Brooklyn judges, has been at the center of his inquiry.
I discussed the possibility of indictments yesterday for the sale of Brooklyn judgeships.
These problems in Brooklyn, of course, are part of the reason that Gov. Eliot Spitzer has sought judicial reform, as I have noted a few times since his inauguration.
Stay tuned for the tabloid headlines…