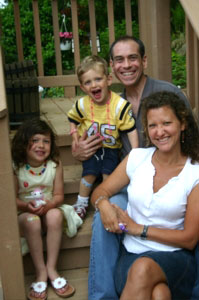 Does my family picture show "characteristics clearly unrelated to legal competence?"
Is it possible that this backyard snapshot, which appears on the bio page of my law firm's web site, subjects me to New York's new disciplinary rules?
The new rules on attorney advertising have an interesting quirk, the ramifications of which I have not yet seen discussed:
DR 2-101(22 NYCRR 1200.6) provides in part, that "An advertisement shall not:
…

(c)[5] rely on techniques to obtain attention that demonstrate a clear and intentional lack of relevance to the selection of the most appropriate counsel including the portrayal of lawyers exhibiting characteristics clearly unrelated to legal competence;
According to a New York Law Journal article from January 8th:
That provision was added partially in response to advertisements run by a Long Island, N.Y., attorney who permitted herself to be filmed in provocative poses to tout her real estate practice. Those ads generated complaints from Long Island practitioners who noted that the attorney's cleavage had nothing to do with her legal abilities, officials said.
Having now stepped on to the slippery slope of restricting attorney speech on how we portray ourselves, we must ask a couple questions:
Must photographs be the boring suit-and-tie shot you see on my firm's home page? What does any picture have to do with "legal competence?" After all, a picture only identifies your race, sex, age and attractiveness. What does that have to do with competence?
At the risk of possible official reprimand, I'm keeping my family picture where it is. I'm basing it on the fact that, among other things, it does not reside on my home page but on a biography page, and is at the bottom of the page to boot. So I think, therefore, that it is not what they mean by "techniques to obtain attention." You have to search a bit to find it.
But what if the appellate judges that made these rules meant otherwise? How, exactly, are we to know which informal pictures are OK and which not? Or if any picture at all is permitted?
Other links for the New York attorney advertising issues: