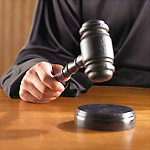 Give the New York Post the credit for that headline, as the fourth Brooklyn trial starts regarding Democratic boss Clarence Norman. Multiple judges are expected to testify in the scandal, as I indicated recently in "New York Judiciary Set For More Bad News" a short while back. Here is the Post lede:
When Civil Court Judge Karen Yellen sat down, hat in hand, with Brooklyn Democratic boss Clarence Norman, Jr., to ask for his support in the 2002 primary, it wasn't her record he was interested in.

Nor the awards the judge, who was seeking re-election, had received. Nor even the high-profile endorsements she promised.

It was a $12,000 check to a Norman crony for an all-but-useless mailing and a $9,000 payment directly into the pocket of a shady political consultant, prosecutors alleged yesterday, as they opened their fourth case against the former assemblyman.
The defense?
Norman's lawyer, Anthony Ricco, meanwhile, compared Norman to Martin Luther King Jr., likening him to a politician fighting for the rights of his constituents…."These individuals were not extorted by Clarence Norman," said Ricco. "He tried to inspire them beyond their own ignorance. Ignorance of themselves and ignorance of . . . the Brooklyn community."
The larceny and coercion charges at stake are part of DA Charles Hynes long-time efforts to root out corruption in the purchase of judicial robes.
Given the possibility of additional indictments from ongoing investigations, and a new scandal that came to light last week from the ex-wife of former Supreme Court Justice Reynold Mason (who alleges payments were made for Democratic party backing), the problems (and press) will continue to be bad for one of my favorite venues…
Stay tuned…