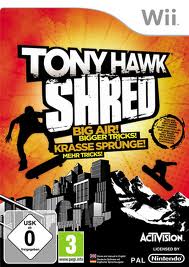 If Christmas Day isn't the slowest day of the year for a law blog, then it's darn close.  But not this year. Rather than see a spike downward, I saw a spike upward and comments started to pour in.
Because on Christmas, it seems, a lot of kids open presents. And many of those kids were unfortunate enough to receive a Wii game created by skateboarder Tony Hawk, which I reviewed a month ago: See, Tony Hawk's Shred for Wii by Activision (Review: How Many Ways Can you Say Awful?)
If you don't know what I'm talking about, read that review and return.
Welcome back. It seems I wasn't alone in finding problems calibrating the skateboard controller to the Wii. In fact, since that posting a month ago, a couple thousand people have stumbled in here to view it, with over a thousand using some combination of the word Hawk and calibrate, using search terms like these:
Tony hawk shred calibration
tony hawk shred calibration wii
tony hawk shred board won't calibrate
how to calibrate tony hawk shred
can't calibrate tony hawk shred
what do i do if the tony hawk shred calibration doesnt work?
cannot get tony hawk shred board to do initial calibration with wii
There are hundreds of these search combinations as people wasted hours on Christmas Day trying to get this computer game to work, and then had to scour the Internet for information as they tried to find some way to put a smile on a kid's face because the gift sucked the big wazoo. A nice way to spend Christmas with the family, right? This was my favorite comment on my first posting on the subject, from "Laura":
electrical engineer PhD husband who can fix ANYTHING could not resolve the calibration problem
But the agony of children across the land on Christmas does have its humor, if you like black humor that is. There were lots of comments and ideas on how to get the thing working, such as:
Try "gently used" batteries
Turn the lights off in the room
Hold the controller right next to the game system
Rotate the console so the "dongle" is in a different position relative to the board
Elevate the board to a height not recommended by the game's maker
Move all furniture away from the game
Remove all metal in the area
Several seemed ready to hang Hawk from the nearest light post, though I may be reading between the lines. Messing with a kid's Christmas, oddly enough, tends to bring out unhappy parents. A couple suggested class action lawsuits against Hawk for putting this lemon on the market.
Can you imagine? Some gently used athlete puts out a game where you have to possibly find gently used batteries, turn out the lights, put the game on a pedestal and adjust its dongle. Trust me, the set up instructions that came with the game don't read that way. Maybe said athlete has spent a little too much time on his own pedestal. Perhaps Hawk has a defective dongle. Perhaps he thinks he can do no wrong. Yet wrong is exactly what he did.
I went to the Tony Hawk Shred website (coded "nofollow") to see if there was an apology there for the thousands of screwed over customers who had wasted untold hours with sad-faced children looking on. I like to amuse myself that way sometimes, pretending that those who owe apologies are sane enough to actually issue one. You may not be surprised to learn that there were none to be seen.
The site even has a blog that I checked. It's last entry is dated November 29, 2010. It says to "Stay tuned for weekly updates." They seem to have missed a few weeks during the biggest sales time of the year.
Hawk, perhaps, knew that he laid an egg, though he didn't yank the game from the market. (Or he's completely clueless, take your pick.)  Maybe he's now looking for just the right crisis manager to put out an artfully worded statement. Now that the money is in the door.