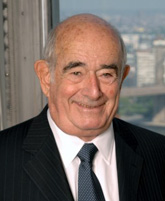 It is a rare day for me to simply copy-and-paste the lede from another story and then link to it. I like to add my own thoughts, opinions and commentary.
But time doesn't allow for that, and since Bob Conason was one of the giants of the personal injury bar here in New York, I will break my own rules. To his friends and family, and the partners, associates and staff at Gair, Gair, Conason, Steigman, Mackauf, Bloom & Rubinowitz, my condolences.
From today's New York Law Journal:
Robert Conason, a highly successful personal injury attorney and partner at Gair, Gair, Conason, Steigman, Mackauf, Bloom & Rubinowitz, died early yesterday. He was 80.

Friends said Conason died from complications from leukemia at Lenox Hill Hospital in Manhattan.

Among his most notable legal triumphs were $100 million in settlements for victims of the Sept. 11, 2001, terrorist attacks and their families with the Victims Compensation Fund, and a $50 million settlement on behalf of relatives of business executives killed in the 1980 fire at the Stouffer's Inn in Westchester County.

Friends and colleagues remembered Conason as much for his humility as for the outstanding success he achieved in the courtroom.
The rest of the story is here:  Obituary: Robert Conason