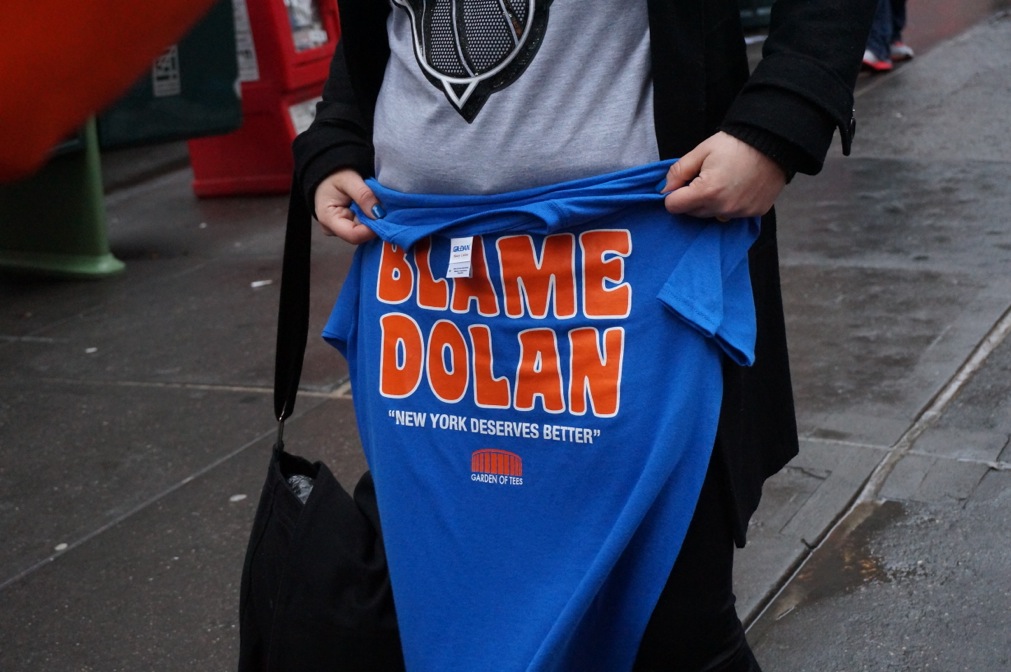 It isn't often that you see the Chairman of a company acknowledge that he doesn't know his company's business. But that, it seems, is what James Dolan has done.
And now as a result, rumors are swirling around New York's legal community about a potential shareholder class action lawsuit.
If you aren't from New York, you might not know that Dolan's father, Charles Dolan, is the billionaire founder of Cablevision and HBO. Cablevision owned the NY Knicks before being spun off in 2010 as The Madison Square Garden Company. And the MSG Company owns the Knicks (as well as the Rangers, Madison Square Garden and MSG Networks). 

Both Cablesvision (CVC) and MSG Co. (MSG) are publicly traded, which is to say, legally accountable to their shareholders.
Now Charles's son James has been running the Knicks for close to two decades, during which the team has no championships, much misery, and one lost sexual harassment lawsuit. Through the years he's said little to nothing publicly, sometimes going years between press conferences.
The times of saying little have apparently changed, however, as Dolan has turned into a chatterbox with his recent introduction of Phil Jackson as the team's latest savior.
Of course, when someone who hasn't been giving interviews for years suddenly opens his mouth, it might be wise to get a little practice first. Dolan didn't, as he apparently spoke the truth when he said:
"That I don't know basketball."
Yet he's running the team and still holds the title of Executive Chairman.
Now let  us ruminate on that concept for a moment.  The guy who runs a pro basketball team, that is publicly owned, admits that for nearly two decades he doesn't know  basketball. And lest you think it was an off the cuff joke, the Knicks' performance over those years back that statement up. The team's front office is ranked dead last by ESPN.
And then he goes on to say that in two hours with Phil Jackson, the Zen Master taught him basketball. So, will any of the protesting fans contact counsel (not me) regarding a class action lawsuit? Well, they might try, but they need to be a deceived shareholder also.
Knick fans are pissed. A group calling  itself Knick Fans 4 Life, has set up a Facebook page to organize its activities (with 2,658 likes and growing). Part of its mission statement regards Dolan's failure to allow knowledgeable basketball people the autonomy/power to make basketball related decisions.
Of course, today is April Fool's Day, and long-time readers know I have, shall we say, a bit of a history with running April Fools gags (SCOTUS and fantasy baseball, official white house law blogger, and more).
So the question the reader might ask: Are today's rumor of a shareholder class action suit real or did Turkewitz make it up?
And the answer: Does it matter?