Canadian singer Justin Bieber, arrested yesterday for drag racing a yellow Lamborghini against a red Ferrari, was sued this morning in a Florida federal court for defamation. Bieber, and 19-year-old Def Jam recording artist Khalil Sharieff, had been racing their high end sports cars 55 mph in a 30 mph zone.
Lamborghini spokesman Marcello Gandini said the company, which brought the action based on trade libel (disparagement of product), was furious that Bieber had recklessly besmirched its brand. "Really? Driving 55 in a 30 zone? That's what he does with our cars?"
The legal filing focuses its attention on the damage done to the corporate reputation. According to Gandini, young Lamborghini drivers, apparently unaware that even expert drivers have trouble controlling the super cars,  have a sterling reputation of crashing their high-powered vehicles in even the most basic of driving maneuvers. Like this. And this. And this.
But "racing" a Lamborghini at 55 mph won't even get the car out of second gear, said Gandini, and such modest driving impugns the reputation of the company for creating exciting and dangerous vehicles.
Bieber's attorney, S. Greenfield Healey, defended his client's conduct. "That street has speed bumps. The idea of racing a low-clearance high-end sports car on such a street is perfectly consistent with the conduct of other Lamborghini drivers, and therefore Lamborghini's reputation was not injured. But the company's failure to warn on the issue of racing this car over speed bumps may have implications in our counter suit."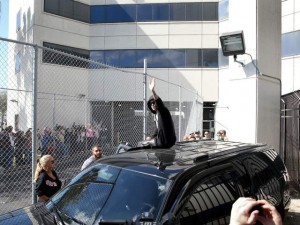 Bieber, terrified that his own reputation would be ruined by this incident, and coming right on the heels of last week's accusation of egging a neighbor's house, asked the police to also arrest him for drunk driving, smoking pot, using prescription drugs, and most importably, resisting arrest. According to the police report, he said, "I need some street cred."
WPTV in Miami reports that Bieber was released on bail and proceeded to climb on top of a black Cadillac Escalade to wave to his fans. Then he got behind the wheel to drive off while texting.
(hat tip, Steve Eschenbacher, @Rabid-Sanity)