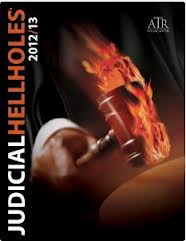 Last Friday I put up a story about a potential juror that, upon hearing the case dealt with a slip and fall, said to the plaintiff's attorney during jury selection, "You motherfucker."
I had three reasons for putting up that guest blog by "M.J." First, it was funny.
Second, it showed how a talented attorney could make lemonade from lemons, as the few jurors left in the room after the majority made a run for the door were those most likely to listen fairly and objectively.
But the third reason was the most important. All too often we hear bleating from the bleachers — those who don't actually try cases but fashion themselves pundits on the subject — about how easy it is to manipulate juries, or how the jury system is skewed in favor of plaintiffs due to the sympathy factor.
One outfit, the American Tort Reform Foundation, annually publishes a report on "judicial hellholes." No, it isn't an empirical study. They simply interview attorneys for corporations and ask them which places they wouldn't want to be sued in.
But you wouldn't know that by the way the press annually reports on the report as if it was a real study. Let's face it, many members of the press are lazy and simply refashion press releases into articles.
You want a judicial hellhole? Then look at potential jurors who aren't even interested in the facts, as they have already decided that the cause of the problem is not what caused the injury, but the lawyer that sought the justice.
The marketing folks learned a long time ago that propaganda often works. The job of the propaganda victims is to expose it and hopefully educate others. Thus, over at the PopTort, they once mockingly wrote of the report:
Your courageous "Judicial Hellholes" report at long last draws attention to the many injustices corporations have to face day in and day out. You have finally given a voice to the "mom and pop" tobacco companies, gasoline conglomerates, and insurance providers. Frankly, it gives me goose bumps. [much more at the link]
Sometimes we succeed in our education. Adam Liptak at the New York Times wrote about the judicial hellholes report that:
It is, for starters, a collection of anecdotes based largely on newspaper accounts. It has no apparent methodology. There is no way to tell why South Florida is the top hellhole while West Virginia is hellhole No. 4.
Since the tort "reformers" never stop, it's worth noting that there are, in fact, judicial hellholes out there. Anyone that has ever stepped into the well of a courtroom and engaged in jury selection will have war stories to tell about it, albeit not quite as blunt and funny as the one "M.J." shared with me last week.