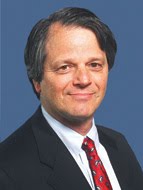 A partner at a leading New York law firm has brought a defamation suit against a local mental hospital, claiming that it defamed him by impersonation in an internet forum, and creating video that asserted he supported "pedophile rapists." The defamation was, according to the suit, retaliation for comments the attorney had made about the hospital.
Glen Feinberg, a partner at Wilson Elser Moskowitz, Edeleman & Dicker (which does a lot of medical malpractice defense among its other lawyering) has been a long-running critic of SLS Residential. According to this story in Courthouse News, Feinberg claimed that the psychiatric hospital was fined "$110,000 for numerous violations, including illegally restraining and medicating patients against their will, depriving patients of the right to their own clothing and money, and preventing them from communicating with the outside world or leaving the facility."
According to Feinberg's suit, comments that were falsely attributed to him started to appear on the web in 2008 followed by videos that appeared on YouTube that called him a "saviour to pedophiles" and a "slime ball who should be disbarred." Feinberg says that the videos were prepared by Andrew Rath of A. Rath Productions, who is also a defendant in the suit.
One lawyer I spoke with that tried a medical malpractice case with him to verdict some years ago had this to say: "Glen was a gentleman and a very capable trial lawyer. He was easy to get along with and trustworthy, both of which are important qualities when standing up in court."
In preparing this blog post, I noticed that a number of other blog postings had referenced Feinberg but have now been taken down.
Feinberg is a long-time critic of SLS, having apparently claimed that they traumatized his son back in 2001 and 2002. He has picketed the hospital in the past and been engaged in First Amendment litigation over it.
In other words, this battle is deeply personal. And one thing I've learned over the years is that there are few people on this planet more motivated than an angry parent.
(hat tip to Hochfelder)
Much more here: