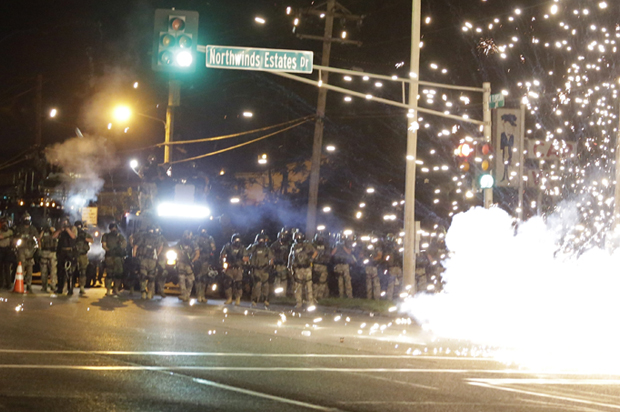 The juxtaposition of the pictures couldn't be more stark.  Out in Ferguson, Missouri, in the wake of  an unarmed teen being shot dead by a cop, we see a militarized police force racing in to use all their toys of crowd control: Tear gas, rubber bullets, armored personnel carriers and, of course, the military-style uniforms with riot armor. Everything about it screams, "Stay the hell away from us."
And the other picture is one I noted on the Gothamist a couple weeks back: A cop on a bike. The article is ostensibly about being caught riding on the sidewalk, but that isn't what captured my eye. No, I looked and saw an extremely approachable human.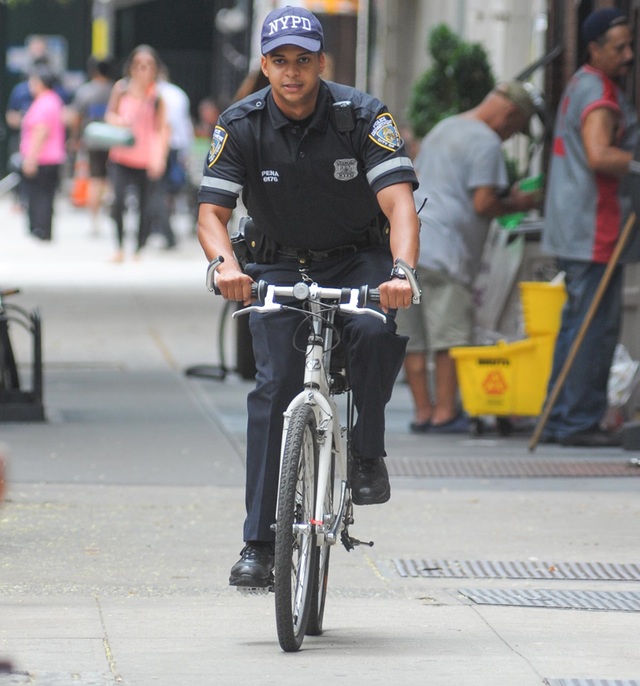 Which cop do you want on your street? The one that says stay away, or the one that waves hello?
Which cop is more likely to be a calming effective?
Which cop is more likely to antagonize and make a situation worse?
Which one is more likely to infringe on the rights of others?
Which one will cost the taxpayers more money, both in hardware and lawsuits?
Which cop is the one that people would most likely to approach with important information?
Do we pay the cops to protect us, or protect themselves?
And now, the local cops are gone from Ferguson and the highway patrol cops have come in. And what did they do? They walked around in regular cop uniforms without all the toys and chatted with the protestors and worked to calm things down. Some protestors got hugs.
The Ferguson cops seem to have done everything they could to make the situation worse, though this is helped with the dumping of excess military hardware into our police departments. Hey, if you have toys, don't those toys have to get used?  (See, Rise of the Warrior Cop, The Militarization of America's Police Forces, by Radley Balko.)
One can only hope that police departments around the country are taking studious notes on crowd control, and leaning what not to do.  The use of military weapons in civilian areas is a horrible trend, and the fall-out from it can affect any one of us.