You remember Michael Slager, don't you? He's the cop that shot Walter Scott in the back down in Charleston, South Carolina in April of this year. I pilloried his attorney, David Aylor, for first taking the case to defend Slager, then when the video surfaced and Slager was charged with murder, Aylor suddenly quit. And then yapped to the press about it. (See Enthralled With the Press).
Aylor was widely quoted as saying:
"All I can say is that the same day of the discovery of the video that was disclosed publicly, I withdrew as counsel immediately. Whatever factors people want to take from that and conclusions they want to make, they have the right to do that. But I can't confirm from an attorney-client standpoint what the reason is."
Damn that sounds bad. The  implication to me, and many others, is that Aylor was not going to rep this loser. Even though that is what criminal defense lawyers are often asked to do.
Now we have a pretty damn good update — Michael Slager has sued over the incident. Sued?! Sued who, I hear you ask.
Sued his insurance company, the Southern States Police Benevolent Association, Inc., which issues polices of insurance. For it was the insurance company that apparently hired Aylor, and the insurance company pulled the plug on the representation. (Slager v. SouthernStatesPBA)
And here's the thing — Southern States did this, according to the complaint, within a day of the video surfacing.
According to the complaint, Slager was paying every month for his legal coverage that included this:
"The Legal Defense Benefit will be provided to Southern States PBA members only in those cases where a lawsuit or criminal accusation results from professional acts or omissions which arise out of and in the scope of their duties as a law enforcement officer."

"The Benefit shall consist of the payment by Southern States PBA of attorney's fees and directly related Court costs."

"Coverage under the benefit is intended to apply to cases where a member has taken some type of direct law enforcement action consistent with his/her responsibilities as a law enforcement officer."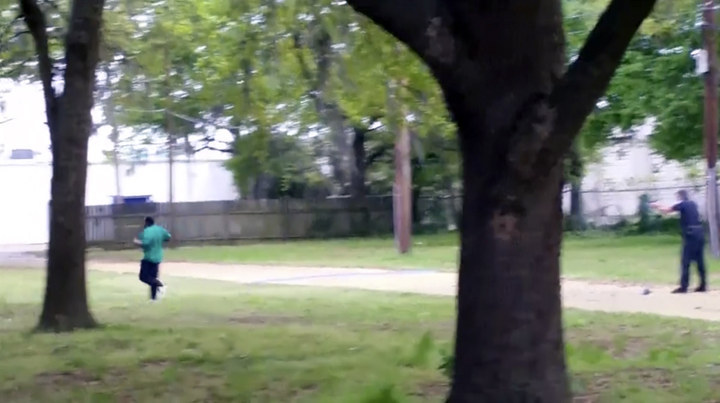 Seems pretty straightforward, right? No matter how awful his conduct, he was clearly undertaking some type of law enforcement action — he wasn't sitting at a desk making management decisions on which new clerk to hire.
The cops even get a wallet card that specifically deals with shootings:
"ALL SOUTHERN STATES PBA ACTIVE MEMBERS RECEIVE THE FOLLOWING LEGAL DEFENSE BENEFITS WHILE ACTING WITHIN THE SCOPE OF THEIR LAW ENFORCEMENT DUTIES."
"SHOOTING: FOR ANY DUTY RELATED SHOOTING OR ACTION WHICH RESULTS IN DEATH OR SERIOUS INJURY, AN ATTORNEY WILL BE SENT TO YOU. CALL EMERGENCY 800 NUMBER ON FRONT IMMEDIATELY!!!"
"… ASSISTANCE IN CRIMINAL MATTERS EXCLUDE INTENTIONAL CRIMINAL ACTIVITY OR DRUG RELATED CRIMES."
Except for this exemption clause:
"Southern States PBA reserves the right to withhold approval of any benefits and to withdraw approval of any benefits if it is determined at any time that the member has committed an intentional, deliberate and/or illegal act, either civilly or criminally."
Now there isn't any question that Slager was acting in the scope of his employment when he shot and killed Scott. His employer will be liable for any civil claim against it.
But if I read the complaint right, the insurance company is happy to give him a criminal defense as long as he is determined not to have done anything illegal?  An illusory and toothless contract?
This is the guts of the legal filing insofar as it pertains to Aylor and the April 4th shooting:
After requesting benefits under the Legal Defense Benefit plan, Defendant Southern States PBA granted Officer Slager's request and assigned attorney David Aylor to represent Officer Slager in defense of the Scott murder charge.

On or about April 7, 2015, Attorney Aylor suddenly and summarily terminated his representation of Officer Slager.
Aylor took a lot of abuse for a few things: (1) cutting and running;  (2) yapping to the press about it, and (3) allowing Slager to be interrogated despite the fact that he had only the word of his client to go on.
But it now appears that the reason for the cut and run was that he wasn't getting paid.  Aylor, it appears, wasn't going to take on a very substantial and high profile murder defense without Mr. Green showing up to help.
There is this:
In a letter dated April 8, 2015, Southern States PBA explained that "upon review your [the] case," it would not provide benefits under the intentional acts exclusion as it had determined that Officer Slager had "committed an intentional, deliberate and/or illegal act, either civilly or criminally."
As per the suit, this was a one-day investigation, which is to say, that insurance company folks saw the video and saw a way out of the contract to defend and that, according to Slager, was bad faith.
This is not to say that Aylor's conduct was the height of perfection, as he made dumb comments, allowed his client to be interrogated when he didn't have all the facts and left the impression that he was running away from an unpopular client after seeing the video.
But this suit does seem to clarify the real reason he quit: He simply wasn't getting paid by the insurance company.
—————–
Elsewhere: At Death and Taxes:
When it comes to police who fuck up, no matter how awful a fuck up it is, they can usually always count on the local police union or fraternal organization to staunchly defend them and slander their critics.

That is, apparently, unless you're Michael Slager, the South Carolina cop who was caught on video shooting unarmed civilian Walter Scott in the back.

Guess cold-blooded murder proved to be too much for the Southern States Police Benevolent Association (we're surprised too!), because the organization, to which Slager had paid dues for legal representation while active on the force, dropped him the day he was charged in the killing of Scott.