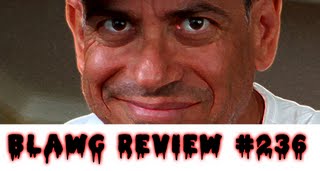 Well, I'm hosting Blawg Review again, this coming Monday. So the floor is now open for suggestions on what to include in this weekly round-up of the legal blogosphere that travels from one blog to another on a week-to-week basis.
As with my 2007 marathon-themed Blawg Review (a long-running hit) and my 2008 Thanksgiving Blawg Review (which I loved writing but which some thought was a turkey), I will not be focusing on personal injury law. Because this is, after all, a round-up of posts from around the legal spectrum, not just my itty, bitty niche.
I'm still scratching my head for how to handle this particular review and what theme to use, so feel free to give me ideas. But you should note that the prior sentence was an outright lie and that I've already decided on a theme. It's my blog, and I'm allowed to do that kind of thing. But send me the tip anyway in case I'm afflicted with the sudden onset of Alzheimers.
To be considered for inclusion you can send an email to [email protected] or go to the Blawg Review site (and read the guidelines) and use the template. Or you can hope that I find your blog on my own as I stumble my way across the interwebs.
Blog post submissions (feel free to submit from any blog, including your own) should be:
1. Interesting to read; and
2. Free of self-promotion and self-aggrandizement. If your post has a suggestion to call you (If you too have driven a car into a pool…) then save yourself the cost of the email as well as the potential humiliation.
Unfortunately, I'm following on the heels of some great reads:
Blawg Review #235 at Counsel to Counsel, focused on posts that dealt with how the practice of law has changed with the Great Recession (and a subject I hit back in August with 10 Tips for Laid Off Lawyers);

Blawg Review #234 at Settle it Now, focusing on a "200 year present" and conflict resolution that is so chock full of links and information it scares the hell out of me as I think about my own;
Blawg Review #233 at Popehat with its tribute to Joshua Norton I, Emperor of the United States of America and Protector of Mexico. What? You've never heard of him? Neither had I, but I now consider myself at expert as the review wove in the lessons of our revered 19th century emperor and the modern lessons he brought;
Blawg Review #232 at Solo Practice University, with its tribute to — what else? — teaching;
Blawg Review #231 at Legally Unbound with its focus on Sin City. And lawyers have plenty of issues when it comes to sin;
Blawg Review #230 at Unsilent Partners, which comes at us from two long time blogs (Charon QC and Infamy or Praise) on two continents with its takes on war and peace; and
Blawg Review #229 at Blawgletter with its homage to John Harvard. Yes, that Harvard.
I am so dead. So very, very dead.