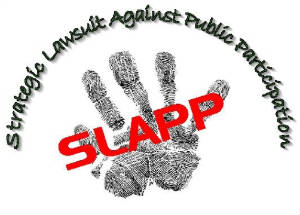 On Tuesday, New York Gov. Andrew Cuomo finally signed anti-SLAPP legislation that had passed the Legislature over the summer; a bill I've been advocating for several years. Being hit with two frivolous defamation suits over my blog posts can have that effect.
The legislation commands an award of costs and legal fees ("shall") for frivolous defamation suits that are brought in order to stifle the free speech rights of others.
I'll get to Trump in a minute — yeah, I know you saw him in the subject heading — but first I want to tip my hat to Assemblywoman Helene Weinstein who has championed this legislation for a decade. While she'd been able to get it passed in the Democratically controlled Assembly, the Republican held Senate refused to act.
For reasons completely unclear to me Republicans didn't see fit back then to stop frivolous suits that impaired free speech rights. And yet, the First Amendment right to free speech is as non-partisan as it gets: What's good for the goose is good for the gander.
That political dynamic changed with the Blue Wave that came two years ago when the New York Senate flipped Democratic, and Senator Brad Hoylman joined the party as Senate sponsor and advocate. This year it passed, and with Cuomo's signature it is now part of Civil Rights Law ¶70-a.
So what does this have to do with Trump?
The legislation "shall take effect immediately." Not prospectively, as most new laws set forth. Now. The law can be used today to seek dismissal and attorney fees in pending suits.
And who has a pending defamation suit in New York? Yeah, New York's most vexatious former resident: Donald J. Trump.
Currently pending is a defamation suit he brought against than the New York Times earlier this year where the paper published an opinion column about a quid pro quo between Russian officials and Trump's 2016 campaign:
In the essay, Mr. Frankel wrote about communications between Mr. Trump's inner circle and Russian emissaries in the lead-up to the 2016 election. He concluded that, rather than any "detailed electoral collusion," the Trump campaign and Russian officials "had an overarching deal": "the quid of help in the campaign against Hillary Clinton for the quo of a new pro-Russian foreign policy."
Since Trump was sworn in, he usually just blusters now about suing people for defamation — can you imagine him sitting today for a deposition? — but this time he actually brought one.
I ripped this suit when it was first brought. And reminded folks of his moronic defamation suit against Univision, and of the time he lost a defamation suit to biographer Timothy O'Brien.
The Times has already moved to dismiss the case, but devoted just a single page to a sanctions request. The Times acknowledged that such sanctions in New York courts are "sparingly awarded." This is something I know all too well from my own failed attempts to have vexatious litigants held accountable in the two suits against me.
The motion to dismiss has not yet been decided. So the Times can now supplement its submission to the court due to a change in the law. The Times can ask that legal fees be given. And that is exactly what the Times should do.
(The briefs by the NYT and Trump campaign are at the bottom)
Trump, of course, is not the only one who starts vexatious defamation suits in order to quell negative opinions. He simply makes for a great example.
The suits have become more common with run-of-the-mill negative comments on sites such as Yelp, Google, TripAdivsor, etc. I've received my fair share of inquiries about them.
What I expect to see, if the lawyers defending the cases are paying attention, is motions brought now under the new law to not only dismiss but for the legal fees.