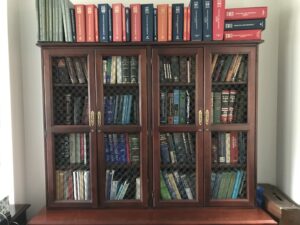 One day this pandemic will end. I don't know when, but it will.
And when it does end what will the future hold for those lawyers who actually know where the courthouse is located and go there on a regular basis? I'm glad you asked.
First and foremost, the courts have partially adapted. Necessity is the mother of invention and all that.
Virtual depositions are going on, despite the fact that some defendants tried to argue that there were reasons everything should be put on hold. And many lawyers are finding out that little is lost in taking testimony this way. You want to be in the room with your client? OK, you can do that. But if opposing counsel or the stenographer doesn't want to be there, then they can appear virtually. Win-win.
Virtual conferences are now taking place daily with courts. Lawyers know all too well the time spent traveling to/from court and the time waiting (and waiting, and waiting) on those hard wooden benches for your five minutes with the judge. Those are now a thing of the past. Hopefully they will stay that way.
Because most appearances (on personal injury matters) are for discovery issues, and most of it is usually handled in the hallway outside the courtroom anyway. Only a small fraction of important issues need judicial intervention, and most of that can be done virtually.
Many appearances are mere status conferences where, literally, nothing happens at all other than giving you a date to come back in the future. (Yes, dear non-lawyer readers, this stuff was still going on as of the pandemic's start.) Does anyone really need to kill three hours going to court to be told "We think your trial will be in seven months"?
What does all this virtual appearing mean? It means that, if you want to make your best appearance, your office is now turning into a TV studio. You need to be well lit, well seen, well heard and have a decent professional backdrop.
While I wrote, back in March at the dawn of the pandemic, a list of tips for dealing with this while it was ongoing, I think now that virtual appearances are here to stay. They are successful. So to the extent virtual appearances have been jerry-rigged until now, lawyers should see this as being permanent. The future has arrived.
Think of it this way: You formally may have shelled out $500 – $1,000 for a good suit. So you would look professional in court. Why wouldn't you also put on your best face virtually?
Incredibly, I'm told by judges, many aren't doing it. They are oft times phoning it in dressed in casual clothes, or from remote areas with lousy wi-fi. It does not serve your client well to disrespect the court.
You have two offices, the first being the high-priced storage facility that is on your letterhead and the other being your home. One day you will get back to the real office, and may have already started. But the virtual appearances will (hopefully) continue for many of the routine things we do.
For me, I'm moving my office shortly (unrelated to the pandemic) and you can be sure that the nice bookcase I bought 30 years ago will be behind me and I'll have lights in front of me.
Home offices are trickier, of course, due to the myriad differences from one to the other. But absolutely required — even if forced to appear from the kitchen table in a two-bedroom apartment you share with a spouse and kids — are a good connection, court clothes, good audio and decent lighting. Webcams and lights can be bought for under $100. There's no excuse for appearing in court as a backlit shadow.
Since virtual appearances are likely to continue past the pandemic's end, you might as well make those investments now.
Think of it as buying a suit. And spend accordingly.