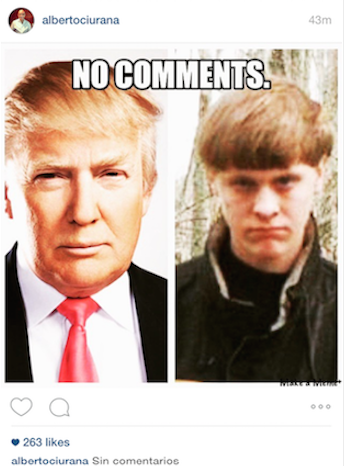 Remember that case over the summer where Donald Trump sued Univision when it pulled out of the Miss Universe pageant due to his incendiary remarks about Mexicans? (SummonsAndComplaint)
Well, during that suit, he threw in an idiotic claim for defamation. It was based on the photo you see here of Trump's mug next to that of mass murderer Dylan Roof, which was put on Instagram by Univision's president of programming and content, Alberto Ciurana.
At the time it happened, I ripped the defamation claim to shreds as frivolous. As did Popehat, albeit more colorfully than I (Donald Trump's Lawyers Don't Know Or Don't Care What Defamation Is)
Now, it appears, a New York judge agrees. Even though the case was removed a couple weeks later to federal court, it was filed in New York's Supreme Court (our main trial level court). And because it was filed there, the court apparently retains jurisdiction over anything that happened while still under its roof.
Most of the suit was about the contract between the parties (the contract was never made public, to my knowledge). But the state court decision here focuses only on the empty defamation claim.
Since statutory sanctions are limited to $10,000 per frivolous claim, or in this case $40,000 in the aggregate due to multiple plaintiffs and defendants, the court has seized on its inherent power to police its own courts. A $40,000 sanction after all, is meaningless to a man that claims to be worth "in excess of $10 billion."
The court noted, interestingly, Trump's recent interview with the Washington Post about bringing a lawsuit designed to harass, even though they are losers:
Trump said in an interview that he knew he couldn't win the suit but brought it anyway to make a point. "I spent a couple of bucks on legal fees, and they spent a whole lot more. I did it to make his life miserable, which I'm happy about."
Since Trump sued for $500M, the judge figures that must be the right number that will make an impression on someone who claims to be as rich as Trump.
The 13-page decision and order by Acting Justice L.B. Sullivan is here –>  Decision-Order-Trump-Defamation
Trump, it seems, is a walking, talking bar exam question. Every time he does something he opens more cans of legal issues.
Where will this one go?  Obviously up on appeal.
Update, seen elsewhere:
Has This Judge Trumped the Donald? (Paul Alan Levy @ Public Citizen)
Does Donald Trump Suddenly Look A Half Billion Thinner? (Greenfield @ Simple Justice)
Update x2: