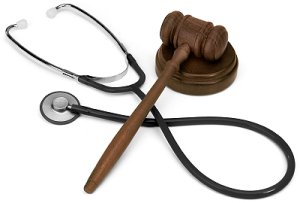 Reporting by: Samson Freundlich and Eric Turkewitz
[Post based on handwritten notes from inside the courtroom — subject to correction when we obtain the transcript.– Transcript now in; edits added in red]
The time had come for a local orthopedist to face the music yesterday afternoon after a New York judge found he had lied under oath in April. But he was nowhere to be seen in the courtroom.
Queens Supreme Court Justice Duane Hart showed no mercy in leveraging the few powers that he had at his disposal to see appropriate punishment administered to Dr. Michael J. Katz for lying about a medical-legal exam that he conducted. The exam in that multi-million dollar case took just one minute and 56 seconds, according to a surreptitiously made surveillance video, and Justice Hart concluded it would not have been possible for the doctor to make the findings that he did in that brief time.
As we discussed in our initiating post, Justice Hart believed he was without legal authority to directly sanction Dr. Katz for the wasted time and money of the two to three week trial, because Dr. Katz was not a party to the lawsuit. But that didn't mean the court didn't have other arrows in its quiver.
The court has ordered the trial transcripts be forwarded to the following for further inquiry, investigation and appropriate action:
Referral to the Queens Administrative Judge so that Dr. Katz can be held in civil contempt of court for perjury;

Referral to the Queens District Attorney for prosecution for perjury; and
Referral to the Department of Health – Bureau of Professional Medical Conduct to evaluate his fitness to practice medicine.

(This statement was made off the official record.)
Dr. Katz, it seems, blundered badly when he declined to leave the medical-legal consult business in which he was seeing upwards of 1,000 people a year. From this he once testified that he may have had revenues of a million dollars or more per year.  Had he bowed out of that business and returned his efforts to practicing medicine, instead of trying to assist insurance companies generate greater profits, Justice Hart might have been more lenient on him.
A new trial has been ordered for September 9, 2013. When plaintiff's counsel requested the doctor's tax records for the new trial yesterday, to challenge the doctor's assertions on revenues from his medical-legal business (he testified that 40% of his practice was medical-legal), the judge shrugged off the application as collateral to the fraud that he saw.  Dr. Katz, apparently unremorseful for his conduct or naively unaware of the gravity of his predicament, was still doing these medical-legal exams even after he was caught perjuring himself on April 11th. The judge's ire, as noted yesterday, was apparent through his on-the-record comments:
It is like a wound that is festering. Every time he does another IME. When is it going to stop? He is making 7 figures a year doing IME's. Then he comes to my part and lies.
Justice Hart unsealed the court record July 1st, made the above referrals today, and Dr. Katz now sits in more legal hot water than he ever could have imagined just one week ago. There is still the prospect of Attorney General Eric Schneiderman investigating the cozy relationship between insurance companies and the doctors that so eagerly do their bidding. And litigation could easily follow in matters where judges and juries had previously relied upon Dr.Katz's reports and testimony to get cases dismissed or to limit damages.
Defense counsel yesterday pleaded for permission to hire a new doctor for the September trial to examine the injured plaintiff. Justice Hart was steadfast and unwavering, however, as he shot that idea down, ruling that the defense was stuck with Dr. Katz for the new trial.
There is little doubt that insurance companies throughout New York are now scrambling to make similar motions for new doctors to examine a variety of litigants, both for Dr. Katz and Dr. Robert Israel, who was slapped with his own sanctions just last month.
With straight faces, the defense attempted to argue that Dr. Katz was now an adverse witness to their case due to an unsympathetic bench.  Justice Hart was unmoved in the argument, and ordered that Dr. Katz must appear if subpoenaed by any party to the trial. He went on to say that if Dr. Katz attempts to invoke his Fifth Amendment rights to refuse to answer questions, that he would consider holding him in contempt.
Defense attempts to preclude Drs. Katz and Israel from testifying in future trials seem doomed to fail. They are, after all, eyewitnesses to injuries.  If a convicted felon came upon a car accident shortly after it happened and saw injuries, would he be precluded from testifying simply because one side or the other didn't like his testimony? If he saw the injuries a month or year later, would he magically be precluded? Are prisoners precluded from testifying? Making matters worse for those that hired these doctors over the years is that they are responsible for creating them as witnesses.
Justice Hart said that if Dr. Katz is subpoenaed and refuses to come to court, he will make sure that he is brought in and put on the stand. If he refuses to answer questions presented — and their appears to be no realistic way he could testify without further perjuring himself or admitting that his prior testimony was false — Justice Hart said he would consider a further contempt hearing and that there would be strong negative inferences in front of the jury.
The physician, said Justice Katz, "has no further right to claim the 5th Amendment" as he has already testified. July 8 Transcript
Yeah, there is more to come in this story, and more regarding the broader implications for our very busted medical-legal exam system that allows insurance company doctors to question litigants without a stenographer or recording and write down whatever they want in their reports and present that to judges and juries.
Stay tuned….
Updates:
Part 3: So, Just How Short Were Dr. Katz's Medical-Legal Exams? (Dozens of his other exams are investigated) 7/10/13)
Part 4: Premature Evaluations — the Evidence on Quickie Medical-Legal Exams (A look at other doctors and their exams) — 7/16/13
Part 5: Quickie Medical Exams: What Next? (7/23/13)
Part 6: To Tell the Truth: Which Doctor's Signature is the Real One? (7/30/13)
Part 7: Doctor Testifies That Six Different Signatures Are All His (8/5/13)