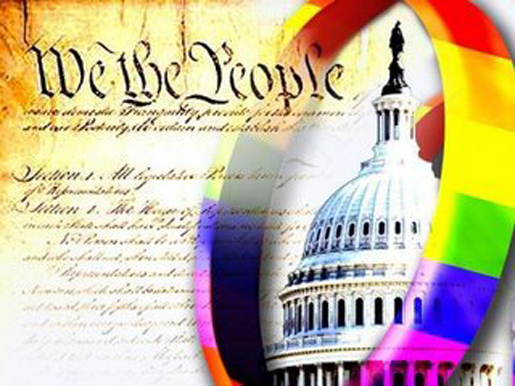 I don't use this blog to cover gay rights — there are plenty of others out there that do — but there is a landmark ruling out of a New York appellate court today that reverses precedent, and says being called homosexual is no longer per se defamatory. Yonaty v. Mincolla.   Since I do cover defamation on occasion, the decision is worth noting. (This comes on the same day that the First Circuit Court of Appeals found the Defense of Marriage Act unconstitutional.)
The reason for the decision? Growing acceptance of gays in society. The Appellate Division (Third Department) was clear:
Given this state's well-defined public policy of protection and respect for the civil rights of people who are lesbian, gay or bisexual, we now overrule our prior case to the contrary and hold that such statements are not defamatory per se.
The overruling of prior case law represents a gay rights victory. And the court made that clear when it cited to the amicus briefs filed in support of this decision by the Lambda Legal Defense and Education Fund, Inc. and Empire State Pride Agenda.
The ruling comes about because the prior rulings were "inconsistent with current public policy," another way of saying that society no longer views such a branding as per se shameful. This is the heart and soul of the decision:
That premise is inconsistent with the reasoning underlying the decision of the Supreme Court of the United States in Lawrence v Texas (539 US 558 [2003]), in which the Court held that laws criminalizing homosexual conduct violate the Due Process Clause of the Fourteenth Amendment of the United States Constitution (id. at 578). The Court stated that people who are homosexual "are entitled to respect for their private lives" (id. [emphasis added]), but "[w]hen homosexual conduct is made criminal by the law of the State, that declaration in and of itself is an invitation to subject homosexual persons to discrimination in both the public and in the private spheres" (id. at 575). These statements of the Supreme Court simply cannot be reconciled with the prior line of Appellate Division cases concluding that being described as lesbian, gay or bisexual is so self-evidently injurious that the law will presume that pecuniary damages have resulted.
This goes hand-in-hand with New York's recent passage of the Marriage Equality Act that legalized same-sex unions.
Cultural reference worth noting: An old Seinfeld episode had a running gag about gays and the defensive response when discussing the issue of "Not that there's anything wrong with that." Now an appellate court agrees.
A few extra legal notes: This was a unanimous ruling by one of this state's four intermediate appellate courts. There is no right to appeal to the highest court. For this the plaintiff would need to make a motion for leave to appeal. If such a motion is made, I think there is a chance it will be granted with the intent of our highest court affirming the opinion to make sure this is a state-wide decision.
Also worth noting, this is the first time in almost 30 years that any in depth analysis of the subject was entertained by one of our appellate courts. From the decision:
We note that the most recent Appellate Division decision considering the issue in depth was decided nearly 30 years ago (Matherson v Marchello, 100 AD2d 233, 241-242 [2d Dept 1984], supra). In that case, the Second Department concluded that it was "constrained . . . at this point in time" to hold that a statement imputing homosexuality was defamatory per se in light of the then-existing "social opprobrium of homosexuality" and "[l]egal sanctions imposed upon homosexuals in areas ranging from immigration to military service" (id. at 241 [emphasis added])
There remain four categories of defamation per se, now that falsely imputing homosexuality has been knocked down:
(i) charging [a] plaintiff with a serious crime;
(ii) that tend to injure another in his or her trade, business or profession;
(iii) that [a] plaintiff has a loathsome disease; or
(iv) imputing unchastity to a woman"
Regarding this, the court wrote:
Defendant and amici argue – correctly, in our view – that the prior cases categorizing statements that falsely impute homosexuality as defamatory per se are based upon the flawed premise that it is shameful and disgraceful to be described as lesbian, gay or bisexual. In fact, such a rule necessarily equates individuals who are lesbian, gay or bisexual with those who have committed a "serious crime" – one of the four established per se categories.
And that, the court ruled, is not appropriate, no matter what past generations have held.
All together now: For the times, they are a changin'.
hat tip: NYLJ with more coverage