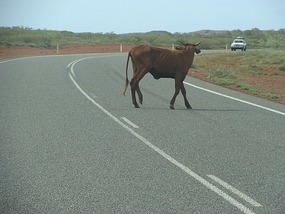 I don't deal too often with animal law at this joint, be we make an exception today. Why? Because an intermediate  appellate court has written that it doesn't like the decision it was forced to render  and asked the state's top court for a reversal. And when an appellate court asks to have itself reversed, I find that kinda interesting.
Facts: A cow wanders into the road. The cow causes an accident. Can the cow's owner be successfully sued for negligently allowing said cow to wander?
Answer: No, there is no liability. Why? Because New York's law of animals is such that there is no cause of action for negligence. The only actions that can successfully be brought are when an animal has a known vicious propensity, and if the animal has that, then there is strict liability regardless of whether the owner did anything wrong.
But a unanimous Appellate Division (Third Department) said that rule sucks in Hastings v. Suave. OK, maybe "sucks" isn't exactly what the court wrote. But the vicious propensity rule generally comes up with household pets, notably dogs, and not farm animals, and the court doesn't think it should apply in the farm animal setting. Acknowledging that they had no choice but to dismiss the case under current New York law, Justice Michael Kavanagh, wrote for the court that "we must note our discomfort with this rule of law as it applies to these facts — and with this result."
Differentiating the case from those regarding household pets, Justice Kavanagh went on to say:
The need to maintain control over such a large animal is obvious, and the risk that exists if it is allowed to roam unattended onto a public street is self-evident and not created because the animal has a vicious or abnormal propensity. Here, plaintiff was injured not because the cow was vicious or abnormal, but because defendants allegedly failed to keep it confined on farm property and,instead, allowed it to wander unattended onto the adjacent highway in the middle of the night, causing this accident.The existence of any abnormal or vicious propensity played no role in this accident, yet, under the law as it now exists, defendants' legal responsibility for what happened is totally dependent upon it. For this reason, we believe in this limited circumstance, traditional rules of negligence should apply to determine the legal responsibility of the animal's owner for damages it may have caused. However, it is not for this Court to alter this rule and, while it is in place, we are obligated to enforce it.
And that, my friends, is what is known as an invitation to the plaintiff to move for leave to appeal to the Court of Appeals. Given the unassailable logic of the court, I think the chances of a change in the law are pretty good.
Update: Leave to appeal to the Court of Appeals was granted June 6, 2012. Oral argument is scheduled for March 21, 2013.
Update #2: Reversed, May 2, 2013. The Court of Appeals breaks new ground in holding that negligence by an owner can be the basis of liability for farm animals, and says that it could apply the same rules to household pets in the future in an appropriate case:
To apply the rule of Bard—that "when harm is caused by a domestic animal, its owner's liability is determined solely" by the vicious propensity rule (6 N.Y.3d at 599, 815 N.Y.S.2d 16, 848 N.E.2d 463)—in a case like this would be to immunize defendants who take little or no care to keep their livestock out of the roadway or off of other people's property.

We therefore hold that a landowner or the owner of an animal may be liable under ordinary tort-law principles when a farm animal—i.e., a domestic animal as that term is defined in *126 Agriculture and Markets Law § 108(7)—is negligently allowed to stray from the property on which the animal is kept. We do not consider whether the same rule applies to dogs, cats or other household pets; that question must await a different case.