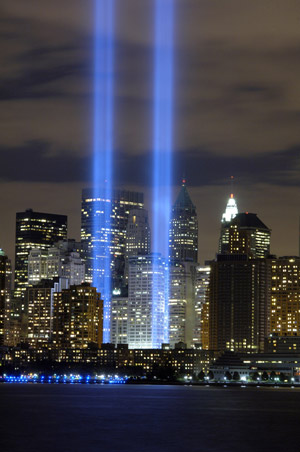 Each year when we get to this point, my keyboard goes silent. I have little to add to the commentary that inundates us. That isn't criticism.  It's just that, while I was in Manhattan that day, there are a half million people with more interesting stories to tell and better points to make. And I mean half million part quite literally.
Last  year, my brother was able to add something to the collective cache of September 11 images when he saw migratory birds trapped in the memorial lights. In watching the one minute video he made, now viewed over 65,000 times, it's impossible not to think of those birds as souls ascending to the heavens.
The only thing I've published on the subject, other than articles about the 9/11 lawsuits, is a tribute to Ken Feinberg, who ran the September 11 Victim Compensation Fund. And even that I didn't publish on September 11, but waited until the day after.
Still, a few weird things still stick in my mind 10 years later, other than the obvious that has played across television screens worldwide:
The people eating dinner at sidewalk tables on the Upper East Side late that afternoon;
Looking at cars at the train station when I returned to New Rochelle, wondering about their owners;
Hearing the on air talent at network television say "Good evening" and "Good morning" when we all knew it wasn't;
Hearing cheery music play at Old Navy the next day as we shopped for kid clothes, because I wasn't going to pick a jury that day as planned, and I couldn't bear to watch the television any longer, and acidly asking some salesgirl why there was music playing.
That isn't the kind of minutia I would have expected to stay with me. But it has, for whatever reason.  These little tidbits of superficial normality are tucked in there with all the awful images created by people that think deliberately slaughtering innocent people proves some religious point.
As I drove home from the station tonight, I passed New Rochelle's City Hall. They were in the process of setting out almost 3,000 flags, the type of scene that will be taking place in countless communities. I stopped to snap the photo you see here.
And each of those flags is likely attached to a million stories about a life, a family and a tragedy.
So the only real message is this, I guess, go tell someone you love them, for we never know what tomorrow will bring. Yeah, I know that has been said before. I told you I had nothing original to add. But it is one of those things that is worth repeating.