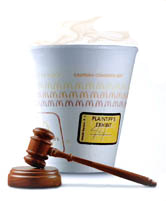 Late last year I wrote about Hot Coffee, a documentary about the tort "reform" industry. The movie, which debuted at the Sundance Film Festival, included much about the McDonald's hot coffee case where the late Stella Liebeck was scalded from the brew. I would tell you more about the case, except that you already know the story.
Or, perhaps, you only think you know about the story. Hot Coffee looks not only at that, but at why you think you know about the case and how the publicity campaign got you to form opinions. The move airs on HBO tonight. The trailer is here.
And this is the lede for a review by Hank Stuever from the Washington Post:
We get a lot wrong in our media-transfixed culture, where a wry quip and populist outrage almost always trump any understanding of complicated facts. But rarely do we get someone as wrong as we got Stella Liebeck.
Was the movie good? Steuver reaches this conclusion:
Unlike so many documentaries these days, "Hot Coffee" is refreshingly unadorned or manipulated for artistic or tear-jerking effect. It winnows down complicated legal arguments and anecdotal cases with compassion and clarity. It does everything a documentary can do — which, in terms of effecting change, isn't much. But if nothing else, it has at least given Stella Liebeck what McDonald's and Jay Leno did not: understanding.
So if you have HBO, it seems like this is something you might want to tune in to. Especially if you are on the other side of the aisle from where I usually stand. Because it isn't just about coffee.
Other reviews of the film after it debuted at Sundance can be read here.