Scott Greenfield reports that there are major problems over at the US Supreme Court due to ongoing renovation. Seems that the Court would like to continue using the building while the renovators due to their thing. Anyone that has ever lived in a house while it is being renovated can appreciate the predictable problems. As Greenfield notes (via a walled off Tony Mauro story):
U.S. Supreme Court Justice Antonin Scalia was making a presentation to foreign dignitaries at the court a few years ago when the sound of a hammer drill erupted nearby.

In 2006, Chief Justice John Roberts Jr. was in the midst of a filming session when a noisy construction worker interrupted.

Vignettes like these from the long-running $75 million renovation of the court's majestic building in Washington are central to a sharp dispute that has broken out between the construction company doing the work and the government agency overseeing the project.
Conflicts between the Court's desire to continue using the building and the contractor wanting to get the job done have resulted in$40M in overruns. And some of that work has even taken place while the Court is in session:
In another incident in 2006, Grunley [Construction]  workers were found using a hammer drill and pouring concrete while the court was in session.

"When questioned, Grunley's superintendent was not even aware that it was a court day," according to a report from the Architect of the Capitol.
So this is my humble suggestion, which should go over well with the originalists on the court: Use the original Court. It was used from 1810-1860 and sits vacant in the basement of the Capitol building across the street. Chief Justice John Marshall presided here, as did Roger Taney who succeeded him. The robe rack for Taney is still there, labeled with his name, and waiting for his ghost or a successor to come use it.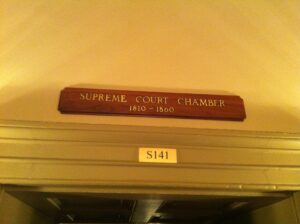 I visited two weeks ago, and took the pictures you see here. Yeah, it's a bit dark and dungeon-like (hence the low quality picture quickly snapped with an iPhone), but hey, it's original. Who can argue with that?