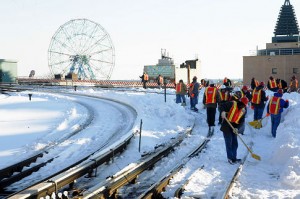 During the December 26-27 blizzard hundreds of passengers were stranded for up to eight hours on an elevated section of subway near Kennedy Airport. And now a lawyer is out there soliciting victims for a suit against the local transit authority that runs the subways.
According to this Daily News article, lawyer Aymen Aboushi is about to sign up seven clients from the stranded A train and hopes to sign up hundreds more.  He even created a website just for this purpose, stuckonthesubway.com.
According to the pitch on the website:
This web site has been set up to help people who were stuck on the A train during the December 2010 blizzard hold the [Metropolitan Transit Authority] accountable for leaving them stranded.  The train was disabled and passengers were not allowed to get off the train.  Passengers were left without heat, water, or food for over 8 hours, in 15 degree weather, even though the train was above ground and the MTA had access to it.  Many people who were trapped on the subway have contacted us. Please contact us to see if you can join the legal action we will pursue against the MTA.
There seems to be, according to my eye, just one little problem with this pitch. It looks like it violates New York's 30-day anti-solicitation rule. That would make it an ethical violation if I am right.
This is the 30-day rule, from the Rules of Professional Conduct (Rule 4.5)
No solicitation relating to a specific incident involving potential claims for personal injury or wrongful death shall be disseminated before the 30th day after the date of the incident, unless a filing must be made within 30 days of the incident as a legal prerequisite to the particular claim, in which case no unsolicited communication shall be made before the 15th day after the date of the incident.
And does a website pitch count as solicitation? Well, it sure seems to be "targeted" and "directed"  to a specific group. According to Rule 7.3(b):
For purposes of this Rule, "solicitation" means any advertisement initiated by or on behalf of a lawyer or law firm that is directed to, or targeted at, a specific recipient or group of recipients, or their family members or legal representatives, the primary purpose of which is the retention of the lawyer or law firm, and a significant motive for which is pecuniary gain. It does not include a proposal or other writing prepared and delivered in response to a specific request of a prospective client.
Do all websites have this problem? Apparently not. But those that were created for just this purpose? The rule-makers were thinking ahead here in Rule 7.3(c)(5). I've added the italics:
The provisions of this paragraph shall not apply to:

(i) a solicitation directed or disseminated to a close friend, relative, or former or exist- ing client;

(ii) a website maintained by the lawyer or law firm, unless the web site is designed for and directed to or targeted at a prospective client affected by an identifiable actual event or occurrence or by an identifiable prospective defendant;
So let me sum this up in legalese; The solicitation looks like a big, fat, no-no. (I've written about this before with other incidents, including a Staten Island Ferry crash, the Hudson River splash landing, and a Buffalo plane crash.)
A closing note. If you read the comments at the Daily News article, you will see near universal condemnation of Aboushi. But all lawyers, and their clients, will suffer when we walk into the courthouse to pick a jury. It only takes a few bad apples to tarnish a profession. Aboushi seems to be doing his best to be one of them.
——
Updated 1/5/10: The website stuckonthesubway.com is now down, with a redirect to the Yahoo home page. My guess is that the lawyer realized he stepped over an ethical boundary and yanked the site.