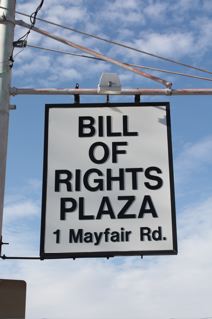 Since today is Bill of Rights Day, I thought I would re-direct you to a post of mine from 2008 on the subject: The Bill of Rights and John Peter Zenger.
You can test your civics knowledge by seeing how many of the 10 rights you can name, without looking it up.
Bonus question: How many different rights are incorporated in the First Amendment? (Listed here)
Second Bonus question: Which President established today as Bill of Rights Day? And before looking, is the person Democrat or Republican? (Answer is here.) And do you think that political orientation means anything when it comes to the Bill of Rights?
Some other posts on the subject, from this year and years' past:
Bill of Rights Day (Cato Institute, 12/15/10)
EDITORIAL: Celebrate the Bill of Rights (Washington Times, 12/15/10)
National Constitution Center with 15 minute webcast
It's Bill of Rights Day (f/k/a, 12/15/08)
Blawg Review 190 – Bill of Rights Day (Legal Satyricon, 12/15/08)
Photo credit: Me