It happened again to me today. I arrived for a Preliminary Conference in Queens. The conference was scheduled for 9:30. I was there on time, as I always am. Defense counsel sauntered in at 10:35. No pre-conference phone call to indicate she would be late. No excuse when she appeared. No apology. And nothing to indicate she actually gave a damn about the concept of professionalism.
The problem sits with the courts. They schedule a gazillion conferences for the same time, and then lawyers sit around waiting, and waiting and waiting. If you have a single appearance to make, and the other side has three or four, you can be forced to sit there while the other lawyer runs around billing his or her time. Or maybe the other lawyer just wants to sleep late.
But, no matter the reason,  it's being done on your time if you were acting conscientiously and actually showed up. I wrote about this problem last in 2008 (see: How One Brooklyn Courtroom Wastes $10M Every Year). And if you then need judicial intervention on an issue, you have to wait in line with all the others.
Abraham Lincoln once said that "A lawyer's time and advice are his stock in trade." Indeed.
Perhaps one day, maybe even in my lifetime, the courts will figure out how to stop squandering all of our time and wasting so much damn money (time = money).
There are a couple of options:
1.  Schedule the conferences at staggered times. If a lawyer has a conflict,work it out at least 3 days before. Sanction those that are late; or
2.  Many of the conferences can be done by phone without the court. At least 90% of the details, and often 100%, can be worked out by the lawyers. Let the remainder, those that need intervention, be done by conference call with the judge.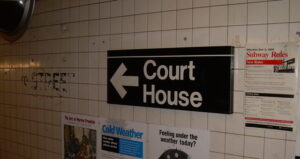 The only problem with this is that much of the defense bar still bills by the hour. Those of us that work on contingency have every incentive to get the job done efficiently. The late-arriving lawyer in today's conference, if she billed today's appearance, probably claimed at least three hours for it as we didn't get out until about 12:15. Don't forget to add the travel time.  But we could have been done by 10:15. And if a court forced the lawyers to do this stuff by phone, we could have done it in even less time.
Now magnify all that lawyers' time against the huge caseloads that sit in the New York City courts. The millions of dollars in wasted legal time add up fast. That is time spent just sitting there in addition to the travel time.
While it is true that it would cost additional money for the courts to implement this solution, it could be paid for by raising the bi-annual registration fees of the bar. They currently sit at $350, to be increased to $375 come September. But I'd gladly pay $500, if it saves me the wasted time in the courthouse. It would be, perhaps, the single most cost-effective fee increase in the history of the New York courts.