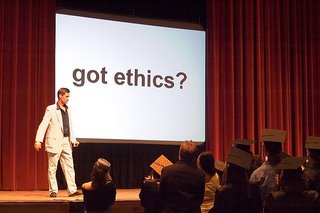 Detroit attorney Carl Collins III has paid a $5,000 fine for chasing victims in the wake of the February 2009 crash of Continental/Colgan Flight 3407 near Buffalo, according to The Detroit News. According to the US Attorney's Office he sent letters out to victims' families 12 days after the crash, in violation of federal law that bans solicitations within 45 days of air disasters. This is the second such settlement regarding the crash, with New Jersey attorney Richard Weiner having likewise been fined $5,000 for chasing clients with letters.
Both of these actions came from federal authorities. New York has its own 30-day anti-solicitation rule (for all mass disasters), which applies to out-of-state attorneys as well. New York has thus far been silent on the issue of whether anyone has been pursued for violations.
The chasing was a big topic for me early in the year, as I tracked a string of law firms that started to electronically chase clients by running Google Adwords, before pulling the ads after they were exposed. You can read those posts at this tag: Buffalo Air Crash. This air crash was the first true test of New York's 30-day rule that went into effect in February 2007. The 30-day rule was not affected when other parts of the new rules were tossed out by a federal judge in July 2007.
Some of those ads had been run through various marketers, with the effect that lawyers had outsourced their ethics along with their marketing. I had discussed the concept of such ethics laundering to beat New York's 30-day anti-solicitation rule a year ago.
As of today, I am not aware of any attorney having yet been sanctioned for such e-chasing (which I covered two years ago in Attorney Solicitation 2.0 – Is It Ethical?) but that day is surely coming.
My thanks to Buffalo attorney Roy Mura, of Coverage Counsel fame, for passing on the Detroit News story.