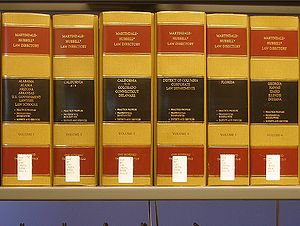 Martindale-Hubbell, the 140 year old attorney directory company, has responded to questions raised after it's agent was caught sending spam to law blogs. Among its promises are a full public accounting for the incident(s) and an attempt to notify all of the law blogs that were defaced by its spammer.
Earlier this week I noted that MH was spamming my blog. MH subsequently acknowledged that they outsourced marketing to another company that spammed blogs, and also offered to answer questions about the incident.
The questions/answers below were too long for comments, and are presented here. Responses comes from Derek Benton, Director of International Operations at Martindale Hubbell International:


ET:     If MH claims to be a leader in social media, why is it outsourcing the social media to others?
DB: In this case we were outsourcing our SEO to an agency, just as we outsource plenty of other Web pieces. The team in the UK (MHI) recently changed to a new CMS [ed: content management system] and as a result we saw a drop off in traffic to our co.uk. site.  To quickly address the issue, we hired an agency in late September to help bring our traffic back up to pre-CMS deployment numbers.  We didn't have the bandwidth on our team to do it ourselves. We hired the agency with the understanding that we would approve everything and that has not been the case.  The agency's understanding was different.  We are now discussing why there was a miscommunication. All SEO work with this vendor has been halted whilst we investigate.
ET:  After MH outsourced to Gilroy's company, did Gilroy outsource it elsewhere?
DB:  Yes he did.  Outsourcing is a common practice to help reduce labour costs.
ET:  Will MH make the results of its internal investigation public, so that others can learn from it?
DB:  Absolutely. We'd be happy to have somebody do a guest blog post on the matter here if you'd like?
ET:  Will MH identify the blogs that were defaced by Gilroy's company? Because they have that information for you. (Gilroy's site includes this feature: "We offer the following link building submission service … if you want it, we'll give you a screenshot for each submission. This way you will know the job has been done really well."
DB:  I can't answer this on behalf of another company, but will try to find out. The quote and link you used above actually relates to their directory submission service, so I don't know whether the screenshot applies in this instance.

ET:  Will MH follow-up with each of the blogs that were defaced?
DB:  Per the above, if we can identify them, absolutely.
ET:  I note on your blog that MH is holding a webinar on social media, which is "a series of online events bringing together some of the legal profession's top social media evangelists to share their knowledge and tips on the practical uses of social media." (Irony noted.) Will you be using this experience as a teaching moment?
DB: We've certainly learned from the experience, yes.  That said, our webinar series is more about bringing experts together to discuss key issues than it is about us (MH) broadcasting our opinions. We're not for a minute defending spamming, nor have we ever done so, I'm not sure whether there's a teaching moment in there.  Don't spam is about the extent of it.
Links to this post:
December 11 roundup  

Key Obama regulatory appointees at NHTSA (auto safety) and FTC [commerce, antitrust] used to work for AAJ, the trial lawyers' lobby [Wood, PoL]; "Adventures in Lawyer Advertising: Muscle, Talent, Results, and Terrible Acting" [Above the

…

posted by Walter Olson @ December 11, 2009 12:11 AM

 

Flip Side of the Spam Scam  

Scammer/Spammers are nothing if not agile. And so, while Eric the Turk at New York Personal Injury Blog pursues the scandalous Martindale-Hubbell Spammer-Palooza, fellow New York blawger Andrew Bluestone at New York Attorney Malpractice

…

posted by SHG @ December 04, 2009 10:36 AM