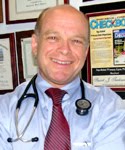 One of my brothers is a doctor. Internist. Geriatrician. You may not have expected that given the many decades both my father and I spent prosecuting medical malpractice claims, but thems the facts.
Today he guest blogs in my humble little corner of cyberspace. He wrote this letter in response to an NPR broadcast on defensive medicine. They didn't air his views, but I will. (My prior comments on Defensive Medicine v. Medical Greed are here, so that, if you choose, you can compare some of the intra-family views on the subject.)
———————————————————————-
By Stuart Turkewitz, M.D.
I listened with interest to your NPR interview regarding the estimated portion of health care costs attributable to malpractice expenses, and especially to the practice of defensive medicine. Both you and the host, Robert Segal, made repeated reference to unnecessary "tests and prescriptions" before arriving at a conclusion that a "very small portion" of the total health care bill results from practicing defensively.
Unfortunately, your reference to "tests and prescriptions" omits a major component of unnecessary health care expenditures: hospital admissions of older adults, and particularly adults with chronic medical problems.
I am an internist and geriatrician, and my patients occasionally go to or are sent to the emergency room, usually because a test is needed to urgently rule out a condition: a CT scan to rule out subdural hematoma, a lower extremity Doppler to rule out deep venous thrombosis, cardiac enzymes and EKG to rule out a heart attack.
Once a dangerous condition is ruled out, there is every reason not to admit an older patient to the hospital: people do best in familiar surroundings with familiar caregivers and food. The hospital subjects them to multiple new faces, irregular sleep cycles and sleep deprivation, risk of infection, and relative immobility, often precipitating a substantial decline in function.
Once in the emergency room, however, patients are confronted with physicians and other staff with every incentive to admit the patient, and little incentive to send him or her home. The infection, confusion, and insomnia that often accompany admission are at least a day or two in the future , and are not a consideration of the ER physician. On the other hand, the ER physician feels that he or she will be held to account for any misfortune that befalls the patient sent home from the ER. In addition, chronic medical problems can often look acute to physicians and staff unfamiliar with a particular patient's "baseline." The urge to recommend admission is overwhelming. The attending physician (that would be me), often at the other end of the phone, however skeptical of a true change in condition, is ill-prepared to argue against the physician who actually saw the patient moments earlier.
There is no question that the fear of malpractice suits influences physicians, particularly ER physicians, to admit patients unnecessarily, and I believe that the magnitude of this dwarfs the "tests and prescriptions" that you mention. This not only drives up the national health care bill enormously, but is detrimental to the health of most patients.
I believe that if the true "costs" of a hospital admission, including temporary and permanent decline in function, were truly and fairly accounted for, then it would be more evident how much the fear of lawsuits was truly costing us all.
Links to this post:
Defensive Medicine – Rob Sachs

Mr. Sachs makes a good point about defensive medicine in a recent post on his lawyer blog. Personally, I don't think he understands what defensive medicine is, based on some of his back-handed comments. Here's a little piece of that

…

posted by Shawn Vuong @ October 16, 2009 7:03 PM




Unnecessary hospital admissions cost money and can harm patients

Unnecessary hospital admissions cost money and can harm patients. When the elderly go to the emergency room, more often than not, they are admitted to the hospital. Stuart Turkewitz, a geriatrician posting at his platintiff attorney

…

posted by Kevin @ October 16, 2009 7:00 AM




Defensive medicine and hospital admissions

Unnecessary testing and prescribing is often the first example that comes to mind in discussions of defensive medicine, but Stuart Turkewitz, MD, explains why needless hospital admissions, especially of older adults and those with

…

posted by Walter Olson @ October 01, 2009 7:51 AM