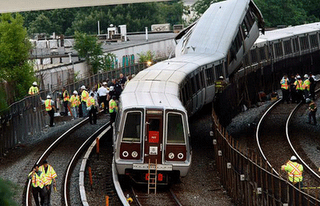 In the wake of Continental Flight 3407 crashing near Buffalo, I tracked how a number of firms from around the nation were using Google ads to hustle clients (see here, here, here, and here). The point was to discuss New York's attorney anti-solicitation rules and, to see if they were effective, compare them to local attorney advertising responses in two other disasters. The other disasters were the Staten Island Ferry crash in 2003 and the Metrolink train crash in Southern California in 2008.
So now we can add another disaster to the mix: The Washington City Paper reports that:
Lawyers Use Web Site, Google Ads to Find Metro Crash Victims (via Overlawyered). An individual named Jared Reagan started a website (metrotrainaccident.com) and then started hustling lawyers to advertise on it. There is no indication that Reagan is even an attorney.
So what does this mean? For those lawyers that retain Reagan to act as their agent to solicit via web sites, it means that those lawyers have outsourced their ethics to him. Let's be clear about this equation:
outsourcing marketing = outsourcing ethics
Notably, the site itself does not list any New York lawyers, either because he hasn't reached us with his own solicitations for his site yet, or because New York attorneys, under stricter ethics rules than those in other states, have learned to become wary of outsourcing their marketing such people. See: New York's Anti-Solicitation Rule Allows For Ethics Laundering and Must Be Modified.
On a final note, New York's ethics rules are currently being challenged in court. Oral argument was heard before the Second Circuit in January. Judge Sonia Sotomayor was on the panel. A decision is pending.
Links to this post:
Disbar the Connecticut 5

No, not really. I don't care whether they get disbarred or let off. A lawyer can't pay a nonlawyer for a referral. This is an uncontroversial proposition. In Connecticut, paying a nonlawyer for a referral can even be a felony.

…

posted by Mark Bennett @ November 06, 2009 8:14 PM




adam winter and thomas dicicco: lying asshats of the day

today's asshats of the day are adam winter and thomas a. dicicco, jr. of "web guardian" (i don't know if it's this webguardian, but it's probably just a boiler room in boca raton). the first time adam called he gave his full name ("adam

…

posted by Mark Bennett @ July 10, 2009 3:48 PM




dc metro crash client-chasing

yes, the online ads are already up. washington's city paper tracks down one california-based law firm marketer: "this is the only marketing i do — it's the highest cost per click online. what else can you do, a young guy like me?

…

posted by Walter Olson @ June 30, 2009 12:14 AM