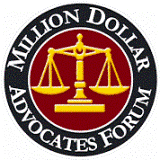 I've received the letter a few times, beseeching me to join the "Million Dollar Advocates Forum." Oh boy! That looks mighty impressive. So I investigated to find out what, exactly, it is.
And now I'm here to report: It's a great way to make money for the guy that thought it up. And little more. You pay him $1,200 and he gives you a certificate (gold embossed and suitable for framing!) and the right to use one of those groovy logos that you see to the right on your website. It is to me, short and simple, a marketing program.
The Forum is a "prestigious" group that is "limited" to those that have "won" million dollar settlements or verdicts. If you Google Million Dollar Advocates Forum you will find no shortage of lawyers boasting of this faux honor. But if a lawyer already lists such results on a website, why pay this guy $1,200 in cold, hard cash for this piece of marketing? You don't need his logo or piece of paper to prove you've handled a big case.
I found this bit of hype from the website interesting:
There are over 3000 members throughout the country. Fewer than 1% of U.S. lawyers are members.
Read carefully, for that bit doesn't mean that only those 3,000+ lawyers have handled million dollar cases. No, it means that of those that have handled million dollar cases that is the number that forked over their money for the logo and certificate.
And I think it's also worth noting that having "won" a million dollar case doesn't mean a lawyer is good. What if, in better hands, the case could have been resolved for three million? All of a sudden that million-dollar-lawyer moniker isn't much to brag about.
But wait, there's more! And you don't even have to order by midnight tonight. You see there is also a "Multi-Million Dollar Advocates Forum," and lucky for you that certificate (gold embossed seal and suitable for framing!) can be had for only an extra $1,000. Or $1,700 if you apply for both at once.
It's also interesting to note that if you defended a million dollar case, you don't qualify, because you have not "won" a million dollars or more. I'm not sure why defense counsel wouldn't be on the same footing as the plaintiffs' folks, for while funding of the case is certainly vastly different, the courtroom skill set is pretty similar once you step into the well. (My father likes to tell the story of the first lawyer to lose a million dollar malpractice case in New York. Rather than hurting his reputation, he became the million dollar go-to lawyer for the big cases.)
So if you see that little logo on someone's website, or the certificate on the wall, don't be too impressed. If the lawyer handled million dollar cases, and handled them well, and wants you to know, s/he will likely list them on their website or tell you in person.
The logo should mean little to the potential client seeking counsel. The certificate seems to be worth the price of the paper it's printed on. Unless you were the guy who came up with the idea and raked in the dough for creating that certificate. In which case it means $1,200 being transferred from your bank to his.
Do you detect sour grapes on my part? You bet! I'm bummed that I didn't think of this first. Who needs to work when you can get, according the web site, over 3,000 people to pony up that kind of cash for a piece of paper? Who knew there were thousands of lawyers out there so willing to part with their cash for this token? According to this 2002 article, the old fee was $450. It has almost tripled since that time. Now that is a great business model for a company that provides a website, logo and piece of paper.
The "Forum" is the brainchild of Donald F. Costello. Costello is himself a personal injury lawyer out in California (though he says he is no longer accepting cases), and his website features the logos that he created three times as well as three additional mentions of the "Forums" in the text. Visitors, however, are unlikely to know that he is the one that created this little business out of whole cloth.
Curious as to whether his company had the backing of any bar association anywhere in the United States, I shot him an email. And the response from Costello?
"The Million Dollar Advocates Forum has no relationship of any type with any bar association or any other group.
Update: See comment #5 by fellow New York attorney Gerry Oginski. He wrote in a March 2009 post about some company called Elite Lawyers of America is trying to suck $500 out of attorneys for a lucite obelisk proclaiming their greatness.
Updated x2: The Wall Street Journal Law Blog picked up where I left off, quoting this piece, in The Million Dollar Advocates Forum: A Valuable Service or Something Else?
Links to this post:
the million dollar advocates forum: a valuable service or …

let's say you or a family member is badly injured in a car accident and you need to sue the person you think is at fault. in order to find a lawyer, we figure you've got a few options. you could go with a recommendation from a friend;

…

posted by WSJ_law_blog @ May 22, 2009 5:00 PM




The Million Dollar Advocates Forum: A Valuable Service or …

Let's say you or a family member is badly injured in a car accident and you need to sue the person you think is at fault. In order to find a lawyer, we figure you've got a few options. You could go with a recommendation from a friend;

…

posted by Ashby Jones @ May 22, 2009 2:09 PM




"million dollar advocates forum"

prestigious honorific? marketing gimmick? eric turkewitz does some digging, and also passes along this tangential but memorable anecdote: my father likes to tell the story of the first lawyer to lose a million dollar malpractice case in

…

posted by Walter Olson @ May 19, 2009 8:24 AM