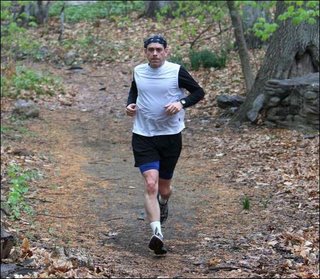 I'm off-topic today to let those who run (or who have friends who do) know about a race that I organize called the Paine to Pain 1/2 Marathon Trail Race. It's the longest trail race within 50 miles of NYC, so if you (or a friend) likes running, and rocks and roots and other gnarly stuff, this is as good as it gets in the New York metropolitan area. It starts at the Thomas Paine Cottage in New Rochelle.
Registration for the race, which will be run October 4th, just opened. This is our second year.
I organized the race after six years of working with local officials to get the Colonial Greenway in Westchester County built. This is an extensive trail system that includes New Rochelle, Mamaroneck, Scarsdale and Eastchester.
This is the race description:
The Paine to Pain is a giant single loop that winds its way through the woods and trails of several lower Westchester parks. You never run the same trail twice and will spend 90% of your time on dirt (and rocks and roots) in the shade of the woods. Many of the trails are completely hidden from public view and host a wide variety of wildlife including deer, fox, coyote, hawks, owls, heron, wild turkey, rabbit and other critters.
If you want to run it you can sign up at the Paine To Pain website. And if you want to volunteer, you can contact me.