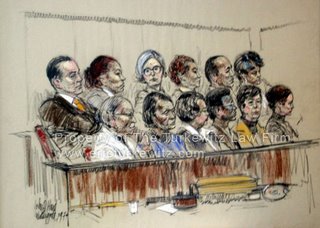 New York's high court today threw out a plaintiff's verdict in a medical malpractice case because the court refused the request of the plainitff to poll the jury at the time the verdict was rendered.
The decision in Duffy v. Vogel, authored by our new Court of Appeals Chief Judge Jonathan Lippman, came after a plaintiff's verdict of $1.5M in a medical malpractice case. He wrote:
In New York, we have long recognized that affording jurors a last opportunity individually to express agreement or disagreement with the reported verdict, is, when requested by a litigant, indispensable to a properly published, and thereby perfected, verdict.
…
Inasmuch as, under New York law, the honor of a request for a jury poll is a necessary condition of a "finished or perfected" verdict, it follows that in this State's courts the failure to poll a jury may never be deemed harmless. Harmless error analysis is a judicial device employed to sustain an already perfected verdict, not to perfect a verdict in the first instance.
…
The proper publication of a verdict in open court, so long deemed essential to assure the integrity of the verdict, is not to be cast aside as a mere formality on the theory that jurors are prospectively bound to act in accordance with their verdict sheet signatures.
The dissent would have held this to be harmless error.