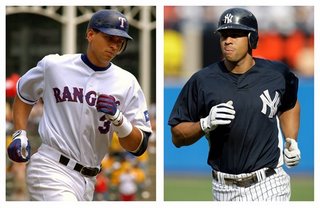 The question came to me from my brother via email, and I confess not to know the answer. But the question sure is intriguing.
Yankee superstar Alex Rodriguez admitted today that he used steroids in 2001-2003 while playing for the Texas Rangers. In one of those years, 2003 he took the MVP title. He said at the time:
"It means the world to me…I'm so proud. It really is a validation to all the hard work and dedication."
Right. Validation for hard work. OK. Moving on to the ramifications.
Those titles usually carry big, fat bonuses with them. A-Roid picked up a $500,000 bonus after he won the award getting six first place votes from the Baseball Writers Association, which decides such titles, among his 240-vote total. And in second place was Carlos Delgado with five first place votes among his 190-vote total. I think it's fair to say that A-Roid would not have received those votes if the writers knew he was getting a little chemical help.
Delgado, it seems, has a very credible claim he was cheated out of the MVP award which, depending on the nature of his contract, could have been worth a small fortune for the win. But it's not just bonus money at stake; he probably would have received larger future contracts. There's a lot of money in being #1.
So can Delgado bring a successful suit? Anyone with an answer?
Some sites covering the story: