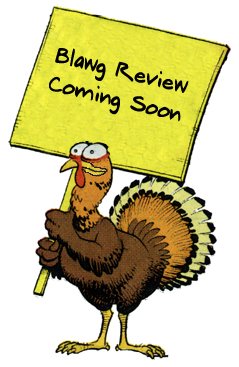 'Tis that time again for me to host Blawg Review. So while you folks stuff yourself with stuffing this week, I'll be cooped up in the home office, ignoring my family and trying to cobble together the best of the legal blogosphere for a short week.
So spare me some hard work and pouty faces from the kids and another kind of face from my wife and write something brilliant. And then let me know. You can submit your post (or those of another equally brilliant blogger, though I know no one can really be your equal at this blogging biz) at this link, or by emailing it to post [at] BlawgReview [dot] com.
And it's important to note that, just as with my marathon blawg review last year, the theme will not be personal injury law. This will be a free-range review in which I'll be able to get any subject in, so long as it's interesting. It's also important to note that this blawg review will be shorter than the marathon one. Not only because it couldn't possibly be longer, but because only three of you actually read to the end of the marathon one, which was a shame because I hid lots of good stuff at the end and you never read it.
Remember that I'll have little to work with unless you write, unlike that lucky stiff Joshua Fruchter from Lawyer Casting who did an evolutionary Blawg Review #187 this week. As you can see from his, he had tons to work with.
But I do have a theme. It's just that it's top secret and I can't tell you what it is (unless your initials are BHO and you happen to be making headlines, or if your initials are GWB and you've authorized me to be tortured, in which case I promise to fold as quickly as the chair I'll be sitting in Thursday). For the theme is not only like Winston Churchill's riddle, wrapped in a mystery, inside an enigma but it's also stuffed inside a turducken heading for the deep-fryer. It's my way of keeping the lid on it.
But I do hope that once it's over you can safely pass the word of its brilliance and warble to your fellow man (or woman, it's a figure of speech, deal with it), that you can get anything you want at this week's Blawg Review.