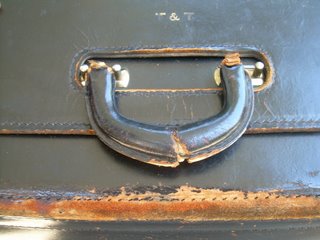 Yesterday's post dealt with the dueling orthopedists. Today we resume with the defense case:
Saturday, June 21st. I'm making pancakes for my kids, some with the Turkewitz Family Secret Ingredient.* But I'm thinking about the defendants' two experts on Monday. The brain refuses to shut down. My 8 year-old daughter comes up to me to make fart noises on my calf. I try hard not to think of summation comments I'll make regarding yesterday's witness.
Sunday, June 22nd — In the home office at night, I'm making revisions to my cross examination outlines and doing more research on precluding surprise testimony from a party. But my printer runs out of ink. Crap. OK, Abe Lincoln didn't have a printer at home nor did my dad, nor did any trial attorney that came between them. I'll make do and go longhand.
Monday, June 23rd— To hell with longhand. Early morning run to Staples for ink cartridge. I'm not my dad, and I'm certainly not Lincoln.
I pull my two trial bags on the wheelie thing up the hill to the courthouse. The trial bags were my father's. He gave them to me when he retired and I use them for good luck. The one pictured here is at least 50 years old, and still has T & T stenciled in gold on it from the time of Turkewitz & Tessel, a firm he started with the kid he sat next to at Brooklyn Law. If trial bags could talk they would rivet you with the stories they held. Dad calls me every night to find out what happened in court. I suggest, for the umpteenth time, that he come out of retirement and make a court appearance for me here and there. I offer to put him on my letterhead — Turkewitz & Father — and for the umpteenth time he declines.
Defendants' first witness is another orthopedist, who did a defense medical exam on my client two years ago and says she was only mildly disabled. He claims she was doing well and could go back to work, and his exam is at odds not only with her treating orthopedist, but with subsequent defense medical exams two years later that call her "moderately" and "markedly" disabled. He has never seen the records or x-rays of her treating physician. Either he has deliberately diminished her disabilities for this suit or my client's condition has worsened. That makes this witness a win-win for me.
Defendants' second expert is a rehabilitation expert who testifies that the plaintiff can go back to work doing sedentary work. She can do this, he says, despite the fact that she sleeps poorly due to pain, and thus has problems during the day, that she has pain on sitting, may need a hip replacement in the future, needs to be retrained, moves slowly due to her arthritic hip, and is in her mid-60s. I'm sure there are plenty of companies out there itching to hire such a person, but this expert doesn't name any in his report. The expert does, however, appear in a wheelchair. Which might account for why he was brought in from Pennsylvania for the trial instead of using a local rehabilitation expert. Assuming one could be found.
At the end of the day the defendants ask the court that, if they chose not to produce their neurology expert — the one that said the client was "markedly disabled" — that they not get a very damaging missing witness charge. Under that charge, the jury is permitted to draw an inference that the testimony wouldn't be helpful to the side that was supposed to call him. I oppose it for obvious reasons, given that he is under their control, would be expected to produce him, and that his opinion differs from the defense orthopedist. The judge rules in favor of the defense. Nuts.
Next up — Summation and charge tomorrow. And…?
—————————————————————
* You're reading the footnote to a law blog about a pancake recipe? Please don't let the boss catch you.
—————————————————————
Addendum — The full series of posts:
Synopsis of the case at my firm's website