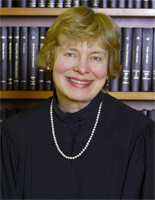 A New York medical malpractice defense firm has demanded permission to conduct 76 private interviews regarding the plaintiff's medical care. The request came in the immediate wake of Arons v. Jutkowitz, a Court of Appeals decision that permits informal interviews with treating physicians, a discovery tactic not previously permitted under New York law. The defense request goes well beyond treating physicians, and seeks broad based interview authority for entire institutions as well as inanimate objects.
On the day Arons was decided, I wrote that "This is a bad decision that will inevitably result in a mountain of litigation." I specifically pointed to the statement by Judge Read (pictured), author of the majority, that:
"it is of course assumed that attorneys would make their identity and interest known to interviewees and comport themselves ethically"
The "just trust me, I'm a defense lawyer" rationale, however, is not a substitute for HIPAA. It is a setup for abuse.
And so now the abuse of the decision has started, served on December 4th, less than a week after the decision. The first recorded instance comes in the request for 76 authorizations for ex pate interviews in a medical malpractice case concerning a failure to diagnose and treat breast cancer in a 40+ old woman. Among the requested interviews (document here: 76-Interviews.pdf) are requests for 27 interviews that don't even pertain to human beings, including:
"Pathology slides;"
"Clove Lakes Entity;"
"Methodist Hospital Lab;"
"Qwest" (another lab);
"GHI" (health insurer);
"Alpha Neuro" (Your guess is as good as mine)
In an interview I conducted with plaintiff's counsel in this case, Bob Vilensky, he wondered aloud as to what the buildings, laboratories and pathology slides would say. (The demand is not for medical records or for physical inspections, but for interviews.)
In contrast to my concerns about the problems that would ensue with the Arons decision, Beck/Herrmann at the Drug and Device Blog, extolled the virtues of the decision and in the comments disputed my view of the dangers, saying, "Most defense types bill by the hour, so the clients don't want to pay for irrelevant rummaging … "
Well, I think this conduct, which was easily predictable, should put that argument to rest. And I don't think this will be the only outrage, only the first of many. And it should also give pause to those that claim the high cost of litigation is due to the actions of plaintiffs' attorneys.
The judges are going to have their hands full.
(Eric Turkewitz is a personal injury attorney in New York)
Links to this post:
posted by Bill @ December 12, 2007 3:38 PM