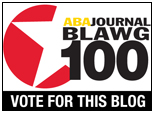 I'd like to tell you to vote for me in the latest law blog popularity contest. After all, it's being run by the ABA Journal so it has to be prestigious, right?
But I can't tell you that. Because I wasn't nominated. Nor, for that matter, was any other law blog devoted to personal injury law.
Maybe personal injury blogs all stink? Maybe we don't discuss enough law, or have enough visitors? Perhaps all the blogs are poorly written? I mean every last one. Perhaps the bloggers really aren't worthy of mention? How else can an entire field of law be ignored?
So let's take a short look:
You would think that, with so much noise being made about the need for tort "reform" because personal injury suits are so problematic, there would be at least a few blogs devoted to that subject as part of the top 100.
But if you thought that, you would be wrong. It's not a question of one blog being picked over another since this is, after all, just another vanity contest that small niche blogs don't have a shot of winning. No, the significant thing is that the vaunted American Bar Association simply doesn't think that this field of law is relevant. The decision to ignore a vast segment of the law speaks volumes about the organization.
[Addendum: The "ABA Mission" is at odds with their exclusionary choices:
The Mission of the American Bar Association is to be the national representative of the legal profession, serving the public and the profession by promoting justice, professional excellence and respect for the law.]
OK, short rant over. Cue Rodney…
Links to this post:
law bloggers respond to aba blawg 100 post

our post last month commenting on the aba journal's blawg 100 has generated some serious discussion around the blogosphere. legal bloggers from across the spectrum have offered their two cents on the issue, each offering a very

…




aba journal "blawg 100" controversy

the selection of sites, as well as the whole traffic-building beauty-contest genre that it may be seen as typifying, has stirred up a considerable volume of discussion: see giacalone, elefant, the unaccountably omitted turkewitz,

…

posted by Walter Olson @ December 04, 2007 12:38 PM




"best of" lists: the unbearable truth bared

in the wake of the controversy (see, eg., kevin o'keefe, eric turkewitz, and carolyn elefant) created by the recently-announced "the aba journal blawg 100" list of the "best web sites by lawyers, for lawyers" (featured in our prior

…

posted by David Giacalone @ November 30, 2007 2:03 PM




We Agree With A Plaintiff's Lawyer!

We're not quite as outraged as you are, Eric Turkewitz, but we agree with you. And, if we agree with a plaintiff's lawyer, that's news that's fit to print. (The issue has to do with a list of top legal blogs. Click through here only if

…

posted by Beck/Herrmann @ November 29, 2007 10:21 AM




UN-AMERICAN

I just found out that this blog was left out of the ABA Journal's Blaw 100. It has become clear to me that the ABA has been taken over by communists, hell bent on destroying our American way of life. As you all know, it never starts as

…

posted by . @ November 28, 2007 10:06 PM