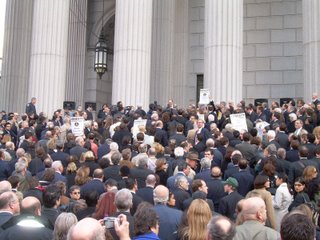 According to an AP report, there were 200 lawyers at the rally yesterday to support Pakistani lawyers who have been manning the barricades for restoration of the rule of law.
But according to the New York Law Journal, the number was 700.
What's going on? Now it's true that inflating and deflating crowd numbers is a time-honored tradition among those that support/oppose any particular rally. But those are news organizations, not advocates, and estimating in the hundreds is not nearly as difficult as estimating in the tens of thousands.
My own estimate, based on many years of playing "guess the attendance today" at Shea Stadium was 300-400, which I stand by. And as I mentioned yesterday, a number much higher than I had expected.
See also: