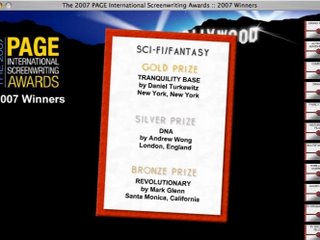 Two weeks ago I wrote that my kid brother was a finalist in a screenwriting competition.
Today, he took the gold prize in the Sci-Fi/Fantasy category of the PAGE International Screenwriting Awards for Tranquility Base, beating 281 other entrants in his category. Not too shabby.
So when I wrote last time that he needed an agent, I wasn't kidding.
———————————————
About the script:
Tranquility Base is the story of astronauts stranded in space in 2040. The action moves between the International Space Station, a Space Transport Plane, and a Moon Base Biosphere, as 15 astronauts struggle to secure the six available spots in the self-sustaining environment of the Moon Base. A combination of 2001: A Space Odyssey and Survivor, Tranquility Base examines the challenges man faces when his desire to help others conflicts with his instinct for survival.