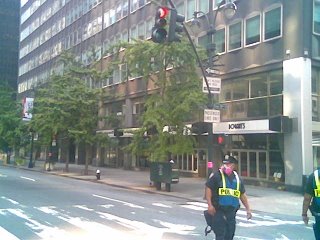 My office is closed today. Sitting just one block south and one avenue west of yesterday's steam pipe explosion, my office has been placed in a frozen zone by the police. Telephone voice mail still works.
The frozen zone appears to be rather large, encompassing several square blocks of some of the world's most expensive real estate in the Grand Central station area. Some asbestos has now been found in the debris.
When I exited Grand Central this morning in hopes of getting in to the building, I found the eastern and main southern entrances closed, and 42nd Street closed and in the process of being jack-hammered in parts by one of the many, many Con Ed crews jack-hammering in the area.
Taking a circuitous route south to my building at 40th and Park Avenue, I found the scenes on the right that I snapped with a cell phone camera. I was unable to determine when I would be able to get back in to the office. For some that might be a cause for celebration. But it isn't if you're the one paying the bills.
And yet…it could have been much, much worse.