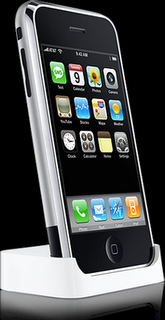 Apple's white-hot iPhone presents an ethical problem for attorneys. The problem is that, since the battery is not removable by the consumer for replacement, the phone must be sent to Apple for this repair. And since the batter is expected to fail after 300-400 charges, then one must assume the gizmo goes back to Apple after two years.
But what about all that confidential email on the iPhone? Unlike a regular cell, or a PDA whose battery can be popped out and replaced, an iPhone user may have to surrender it to Apple for a week or two. Even assuming a replacement cell can be used in the interim, it doesn't ameliorate the bigger problem of compromising client security. Therein lies the ethics issue.
New York's Code of Professional Responsibility, along with many if not all others, includes the canon that "A Lawyer Should Preserve the Confidences and Secrets of a Client."
And since the iPhone is, by definition, not working when it goes in for service, confidential information can not simply be deleted.
For attorneys, it may be impossible to send the iPhone to Apple for servicing. In fact, it could easily be said to constitute legal malpractice to release the iPhone from your custody, and therefore make version 1.0 of hte iPhone impossible to purchase as anything other than a disposable toy.
For a dissection of the iPhone and the problem with the battery, see Wired Magazine's IPhone Autopsy: Wired News Voids the Warranty.
Addendum: Apple just announced their battery replacement program for out-of-warranty iPhones (via The Apple Phone Show). Interestingly, it says that:
[T]he repair process will clear all data from your iPhone. It is important to sync your iPhone with iTunes to back up your contacts, photos, email account settings, text messages, and more.
Will that be sufficient to send an iPhone loaded with data off to a stranger at Apple, instead of having an in-house IT department or your local computer handyman take a crack at it the way you would for a laptop? From the perspective of an attorney with client confidences (or physician with medical records or businessman with trade secrets at stake), I doubt it.
Addendum 7/4/07 — iPhone Review for Attorneys (TechnoEsq)
Addendum 6/15/12 – While doing another Apple post I remembered this ancient one from five years ago. I don't know if it was possible when I wrote this in 2007, but it is certainly possible now — an iPhone can remotely be turned into a brick by de-activating it. Thus, if it is lost, you can wipe it clean so others can't use the data. The same can be done if you need to surrender it for repairs and it has confidential information on it.
(Eric Turkewitz is a personal injury attorney in New York, Mac user since ~1994 and Apple shareholder since 1999.)