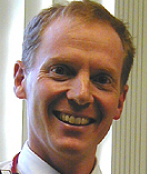 (This is a follow-up to Doctor "Flea" Settles Malpractice Suit After Blog Exposed In Court. regarding a pediatrician that was live-blogging his own trial. I first discussed the legal ramifications of doing so on May 8, in Medical Malpractice Trial Starting For Med-Blogger)
Were you wondering how Flea was exposed in court and how his blog would be used? So was I. Curiosity got the better of me, since the details weren't in the Boston Globe story from last week.
So I called plaintiff's counsel, Elizabeth Mulvey, of Crowe & Mulvey to find out. She told me she was tipped off to his blog by another attorney. How did the other attorney know? Because Flea had blogged about a subject that Mulvey had spoken on some time back and the other attorney realized that she had the case. Flea had unwittingly given out the identifying information when he discussed her talk. On this cached version of Flea's site, you can see his comments discussing Mulvey on April 28th.
With that information in hand Mulvey scoured his blog for helpful information, much the way any attorney would review writings produced by a witness for the other side. She found a post where Flea referred to Nelson's Pediatrics as the bible of pediatrics. (I have the 11th ed. from 1979 on my own bookshelf.) So she asked him on the witness stand if he considered Nelson's the bible for pediatrics. He said no. Lawyers call that a "prior inconsistent statement" that allows us to confront the witness with the other statement. That meant asking him if he was Flea and confronting him with the blog posting.
This testimony came out during the direct exam of Flea by Mulvey (she called him as her own witness making it "direct" even though he was adverse and it more realistically resembles cross-examination). She did not use the comments about the meetings with jury consultants that I discussed back on May 8th, but then, she still had another opportunity to examine him when his own attorneys were done. The tips he received on how to conduct himself on the witness stand could still have come up.
She never got to that second part of her exam, however, because the case settled. The details are confidential.
Mulvey considered this just another type of prior inconsistent statement. The most frequent use is when deposition testimony deviates from trial testimony. It could also come out if a witness has published an article where the contents of the article differ from the testimony. That it came out on a blog was novel, but the concept was not. (William Childs at TortsProf hit this point on May 31st.)
Tomorrow, more details concerning the trial…
Addendum 6/5/07 – Part 2 now available at this link.
Addendum 6/6/07 — Flea, The Boston Globe and Morality in Journalism and Blogging