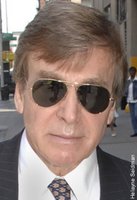 From today's New York Post:
May 23, 2007 — Dr. Sherrell Aston, one of the world's most acclaimed cosmetic surgeons, is being sued by a Connecticut man who claims the renowned doctor's "gross negligence" led to his wife's death.

Susan Malitz, 56, had gone to Manhattan Eye, Ear and Throat Hospital in 2004 for what was supposed to be a routine face-lift operation by Aston, whose patients have reportedly included Tipper Gore, Anna Wintour and Catherine Deneuve.

Two hours later, Malitz was dead – the second patient to die during cosmetic surgery at the hospital in a two-month period.
The claim is lidocaine toxicity, as found by the New York Medical Examiner. Dr. Aston says the medical examiner is wrong. An article from 2004 in the New York Times on the matter is here.
Addendum 5/25/07 – The case has now settled for $3.1M, with the anesthesiologist, Dr. Gary Mellen, paying $2.7M and the hospital $400K. Settlement also appears in the New York Post.