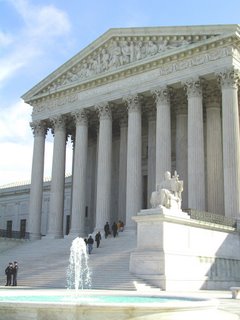 In a decision released today, the United States Supreme Court includes video as part of its decision. Buried in footnote five of Scott v. Harris, the text of the decision is linked (not just cited) to a car-chase video that automatically downloads 92 MB to your hard drive. According to Howard Bashman (How Appealing) this is a first for the court.
(The Court ruled that police do not act unconstitutionally when they try to stop a suspect fleeing at high speed by ramming the suspect's car from the rear, forcing it to crash (as per SCOTUSBlog).)
Such a citation certainly encourages me to take more liberties with my briefs, incorporating pictures and diagrams into the brief instead of forcing judges to flip back and forth between exhibits and briefs.
Addendum: More Thoughts on Placing Video Online