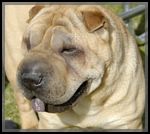 Certainly one of the more unusual lawsuits I've seen, from New Rochelle, NY:
The city's largest park, Ward Acres, had long been the domain of dog owners who allowed their pets to run around unleashed, to the detriment of others who wished to use the park. So when the city put in new regulations — and fees for the dog owners, with larger fees for non-residents — a local uproar was created.
Now comes a lawsuit challenging the new regulations, and this one looks more than a bit odd. From The Journal News:
Three dog owners unleashed a lawsuit against the city over new dog-walking regulations at Ward Acres Park.

The suit is a response to an ordinance effective April 1 stipulating hours when dogs must wear leashes and requiring dog-walking permits.

The plaintiffs, a city couple and a Mount Vernon resident, seek a suspension of the ordinance on the grounds that it discriminates against nonresidents, charges a fee to use a public park, violates state dog licensing rules and subjects dog owners to unreasonable searches and seizures by police.

"The word 'unprecedented' is very helpful," said Jeffrey P. Wiegand, one of the lawyers representing Dennis C. During of Mount Vernon and Michael S. Friscia and Marci Malone of New Rochelle. "(The new ordinance) charges ordinary citizens almost an admission fee to Ward Acres Park, which is open parkland."
I've seen plenty of local parks with user fees and/or restrictions to the taxpayers for that municipality, so this suit certainly seems to be unusual.
Woof.