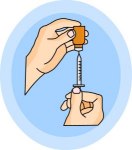 A few other blogs have noted developments on the continuing story of how counterfeit drugs enter our pharmaceutical supply chain that are worth noting:
Adam Fein at Drug Channels in RFID Un-Hype covers the failure of the drug industry to embrace radio frequency identity tags as a means of tracking drugs as they wind their way through an often extended supply chain. The extended supply chain is safety weakness as it increases the chances for counterfeit infiltration. The subject is also covered by Ed Silverman at Pharmalot as he notes that the much ballyhooed RFID as a solution to tracking drugs in the supply chain appears dead in the water.
The failure of RFID comes as no surprise to me. When I previously spoke before the FDA's Counterfeit Drug Task Force a few years back, I urged non-technology solutions. The remedy for a weak supply chain is to actually limit the number of hands the drugs pass through, not try to document a dozen different owners of the drugs. The more people that touch the drug, the greater the chance for infiltration of counterfeits (or destruction of the drug through negligent handling). Counterfeiters will always be around to try and corrupt the supply chain, for as Willy Sutton might have said, that's where the money is. One day, some distributor that bought mystery medicine out of the gray market will be looking at dead bodies and trying to feign ignorance of the problem.
And on a related note, Jayne Juvan (Juvan's Health Law Update), reports on an appeal to the Second Circuit Court of Appeals in Rx USA Wholesale v. Department of Health and Human Services, Food and Drug Administration. This dealt with an injunction against the FDA forcing compliance with the rules regarding the drug pedigrees (that's the track of the actual drugs, discussed above). The FDA has now filed its brief, and Jayne has a copy of it along with a synopsis.
See also from this blog (with yet more links) :