This has nothing to do with New York Personal Injury Law. But I'm a runner, and this is my blog, so that's that.
The nor'easter that deluged New York yesterday is swamping Boston today for the 111th running of the race.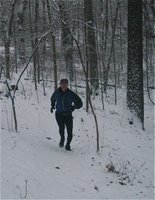 At the marathon start, wind gusts hitting 50 pmh. Much of the staging area is underwater. Temps in the 40s and heavy rain predicted.
It's going to be epic. There's nothing like a foul weather run to put the zest back in your step (that's me on a trail run, at right).
May the winds be at their backs…