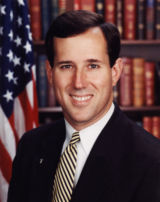 Rick Santorum, former Senator from Pennsylvania, has joined the firm of Eckert Seamans as a consultant, as per Peter Lattman at the WSJ Law Blog.
But since the firm has a New York office it is required to abide by New York's new ethics rules that went into effect on February 1st of this year, and have been discussed for many months before that.
A view of the firm website this morning finds that it is not in compliance with the disciplinary rules. Its attorneys apparently haven't even read through the new rules despite many articles on the subject including the New York Times (WSJ Law Blog on Times article) and the front page of the New York Law Journal.
The reason I suggest the rules haven't even been read is that the easiest part, marking the web site as attorney advertising, hasn't been done, as required.
Litigation is currently pending in federal court over the constitutionality of the new rules (Skadden Website and Others Named In Ethics Lawsuit).
Other links on the subject: